Ellie Choi, Alicia Yoon, Sarah Lee... this season, Korea's beauty gurus (K-Beauty) are all about glass skin: a clean, flawless look that's so luminous it's almost translucent, like a piece of glass or porcelain. The key? Intense, lasting hydration… and a little boost from your makeup kit. Let's take a look at this look, step by step.
CLOSE ATTENTION
It has to be said: the Glass Skin look can't be obtained in a day. True to the Korean vision of beauty that's focussed on adopting good habits for skin health, Glass Skin is obtained over time, with a regular beauty skin-care routine. At the heart of this ritual is something that must be done morning and night: layering, or the successive application of moisturizers one over the other. While performing their main job of adding hydration, these products work together to repulp your skin, giving it maximum radiance.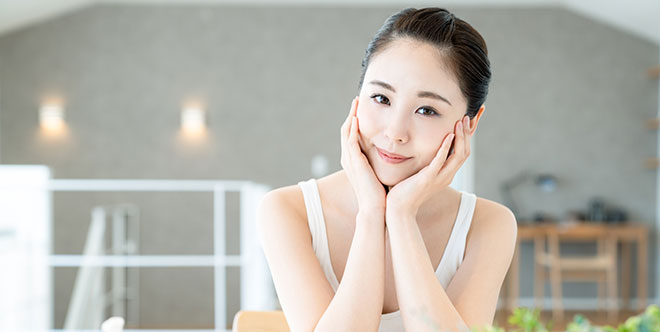 SKIN-QUENCHING ROUTINE
1. Start by cleansing your skin to get ride of impurities. Avoid scrubbing too hard, which can irritate the epidermis and lead to excess sebum production. Forget tap water, heavy with calcium and chemicals. Instead, dab a cotton swab in moisturizing micellar water or choose a cleansing oil that penetrates deeply.
Twice a week or so, perform a good exfoliation to get rid of any dead skin that leads to a dark, lifeless look. Try to minimize abrasion by using a gentle peeling product that revitalizes your skin without damaging it.
Our suggestions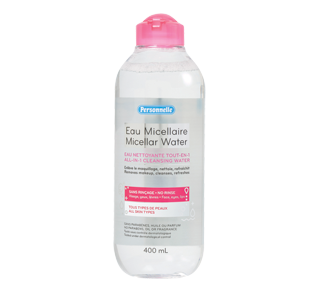 Personnelle
Micellar Water, 400 ml
All-in-1 cleansing water. Removes makeup, cleanses, refreshes. No rinse. Face, eyes, lips. All skin types. No parabens, oil or fragrance. Tested under dermatological control.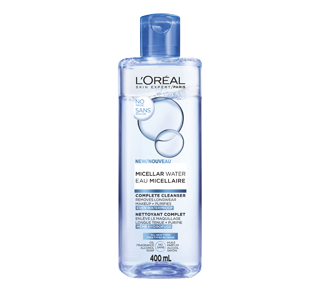 L'Oréal Paris
Micellar Water Waterproof Makeup Remover and Gentle Cleanser, 400 ml, All Skin Types
2. Apply a serum. Naturally, you'll want a formula rich in moisturizing ingredients. And don't be shy about laying it on thick and letting it penetrate for a few minutes. It's the best way to ensure your product reaches the deeper layers of your skin, which will help create that translucent effect you're looking for.
Want to help boost the effects of your serum? A few times a week, after applying your serum, take a moment to cover your entire face with a moisture barrier sheet mask and leave it on for at least 15 minutes. Give yourself a few extra minutes after each treatment so your skin can properly absorb any excess formula.
3. Treat the delicate skin around your eyes with a cream or fresh gel created specially for women. You can also dab on a bit of this product just above your lips, where fine lines tend to appear with age.
Don't forget your lips! Cover them with a generous coat of nourishing balm. If you want to apply lipstick, make sure you apply the balm well beforehand. It needs time to penetrate so it doesn't interfere with your colour.
Our suggestions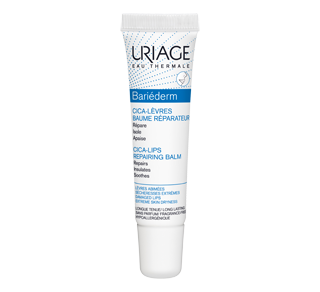 Uriage
Bariéderm Cica-Lips Repairing Balm, 15 ml
The first barrier lip balm formulated with Poly-2p, an innovative patented complex, which offers a triple action. A high tolerance and long-lasting formula that is suitable for both professional and personal use.
4. The ultimate step? Cream. For daytime, choose a light formula that moisturizes and protects your skin from the day's rigours while keeping it quenched for hours. At night, use a rich product and apply it generously, giving your skin everything it needs to stay nourished as you sleep, leaving you looking softer and more radiant in the morning.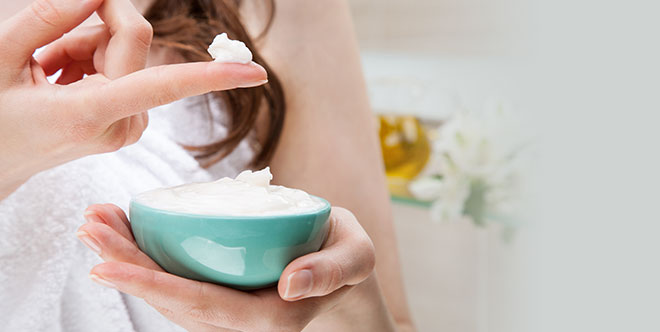 The million-dollar question: should you use moisturizers if you have oily skin? Yes, because the very reason your skin creates excess sebum is to make up for lack of hydration! If your skin becomes greasy easily, make sure you do your layering with more aqueous products that are non-comedogenic and won't accentuate the shine.
WHAT ABOUT MAKEUP?
Heads up: while proper moisturizing is essential, it's not enough to create the Glass Skin look. So why not cheat a little by working on your complexion? Use the layering technique by superimposing thin layers of light, non-matte products to hide imperfections while maintaining the elasticity and radiance of your skin. Then, as a corrector, apply a coat of natural foundation, a drop of concealer and a little loose powder. Remember: the Glass Skin effect is based on glare, so a few drops of liquid illuminator at strategic locations is perfect for the finishing touch.
Pro tip: Use a bit of your favourite rich cream product on the higher areas of your face (cheekbones, chin, bridge of your nose, forehead) instead of an illuminator to create that glass-like finish you're looking for.
Our suggestions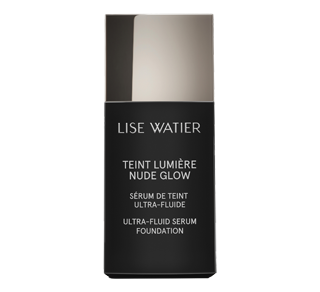 Watier
Teint Lumière Nude Glow Ultra-Fluid Serum Foundation, 28 ml
Sheer, buildable coverage for a natural, radiant finish.