Lorelai and her daughter Rory, star characters of the cult series Gilmore Girls, are back on TV. Celebrate the occasion with five beauty products they would never go without.
Gilmore Girls is first and foremost the story of the evolving relationship between Lorelai, a single—and sometimes goofy!—mom in her early thirties, and her studious daughter, Rory Gilmore, 16. Their relationship redefined the traditional mother-daughter model more than 15 years ago. But Gilmore Girls is also the story of the fictional town of Stars Hollow, Connecticut; bottomless cups of coffee; Chilton private school; handsome Luke; mean-girl Paris; and dialogue that's fast-paced, precise, staccato and smart. It's a true cult series that won over millions of women across the world in the early 2000s! Good news for fans: Netflix has revived the series with four 90-minute super episodes, titled Winter, Spring, Summer and Fall.
To celebrate the occasion, we're presenting five essentials that you would definitely find in the beauty kit of your favourite Gilmore Girl!
A tinted moisturizing balm
What's one thing you'd never see in Stars Hollow? Dry, chapped lips! The show's female characters always have well-hydrated, perfectly smooth and lustrous lips, and most of the time they are slightly tinted: think translucent balm in beige or rose petal pink.
An anti-frizz lotion
Repeat after us: "A Gilmore Girl must have soft, shiny, disciplined hair at all times!" Jokes aside, have you ever seen Rory's hair go frizzy in damp weather or Lorelai's curls rebel in the rain? Neither have we! The secret to their perfect hair must be an anti-frizz lotion.
A fiery red lipstick
Lorelai and Rory's philosophy? "You can never go wrong with red lipstick. It's a classic." And how right they are! To copy-paste this mother-daughter duo's glamorous look, opt for lipstick in a vibrant colour with long-lasting hold to help withstand the countless coffees you'll be drinking every day, just like your favourite characters.
A rosy blush
The key to Lorelai and Rory Gilmore's beauty look: beautiful pink cheekbones with a healthy glow. To recreate this makeup, simply apply a touch of blush to your upper cheekbones. Pssst! For a doll cheek effect, use the smile technique: looking into a mirror, give your biggest smile then apply the blush to the plumpest part of the cheekbones. But make sure to use a gentle touch for light, fresh results.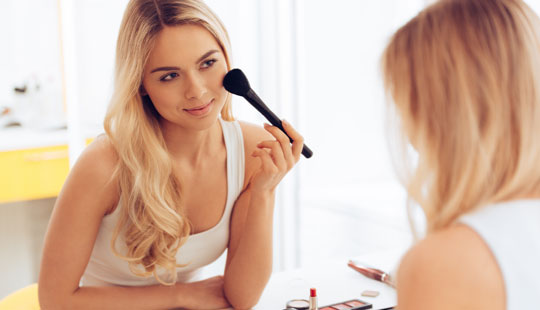 A face mask
What we love most about the Gilmore Girls is their passion for movie nights at home. And with their flawless skin, it's a safe bet they take advantage of these cozy moments to have little beauty sessions! Here's what to put on your shopping list for your next girls' night: drinks, snacks, a fun film and a resurfacing mask for a smoother, brighter complexion. What more could you ask for?