Foundations for every type of skin: it's this year's rallying cry! The nuances offered in the cosmetics department are more numerous, diversified and affordable than ever. So how do you find the one that's right for you? Easy. Just read on…
TARGET THE RIGHT TINT
It's the Golden Rule. You want a colour that blends well with your natural complexion: very light, light, medium, matte or dark. If you don't find one that's identical, choose one that's slightly (very slightly) paler, to ensure that the natural luminosity of your skin shines through.
One bit of information you have to know to properly choose a pigment is your skin's undertone. While factors like exposure to the sun can make your complexion lighter or darker, your undertone never changes. And it's the undertone that's referenced by those letters placed before the nuance numbers on packaging…
N (neutral) for neutral undertones;
W (warm) for warm or golden undertones;
C (cool) for cold or rosy undertones.
Want to know which category you fit into? Check your veins! If they're a little greenish, your undertone is warm. If they're bluish, it's cool. If you have a hard time choosing between warm and cool, it's probably neutral.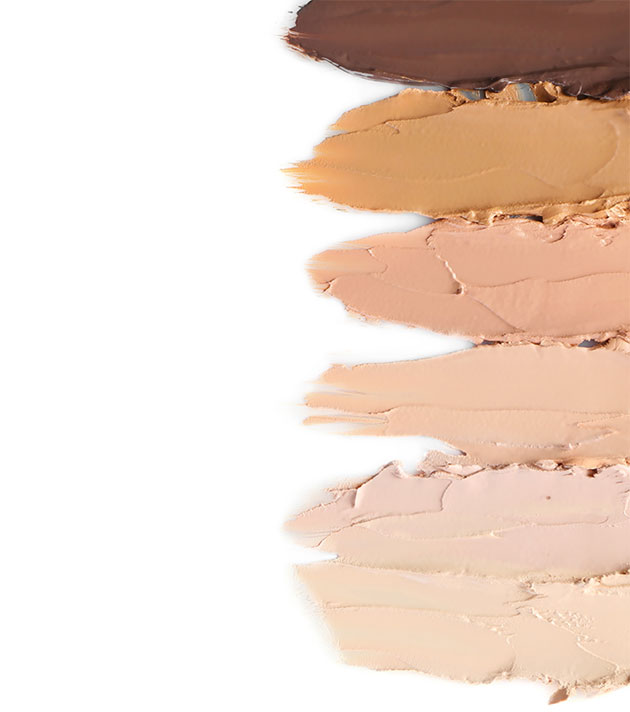 Pro tip: Still confused? Take a look at your jewellery. Generally speaking, cooler skin tones work well with silver, while gold goes best with warm undertones. And neutral tones, well… they go well with everything.
SPECIFY YOUR CRITERIA
…by asking three essential questions.
What type of finish do you prefer?
A brilliant finish plays off the subtle shine of mother-of-pearl to brighten your face and define your features. It's the ideal choice for glowing, slightly iridescent complexions.
A natural finish is THE solution for that perfect no-makeup look. Your foundation blends naturally into the skin to enhance your complexion without being noticed at all.
A corrective finish mattifies your skin and blurs imperfections thanks to pigments that reflect natural light.
What type of coverage do you want?
Light coverage stays transparent and unifies your skin tone without masking red areas or beauty spots.
Medium coverage makes your skin velvety, reducing little irregularities like isolated pimples or pigment spots.
Total coverage hides pronounced or multiple imperfections. It's the right choice for targeted correction, problem areas or your entire face. Whatever the reason, make sure you choose a tint that's close to your natural skin texture to avoid the mask effect.
What texture is best for your skin type?
Normal skin prefers liquid textures that are light and non-greasy.
Oily skin needs mattifying products that absorb sebum without blocking the pores. Powders are a good choice.
Dry skin, on the other hand, prefers creams. They're dense and nourishing and they magnify the complexion while keeping your skin supple and well moisturized.
Mixed-type skin needs a product that will maintain comfort for dry areas while minimizing the shine in more oily areas. Choose compact powders or foams that mattify without decreasing the suppleness of your skin.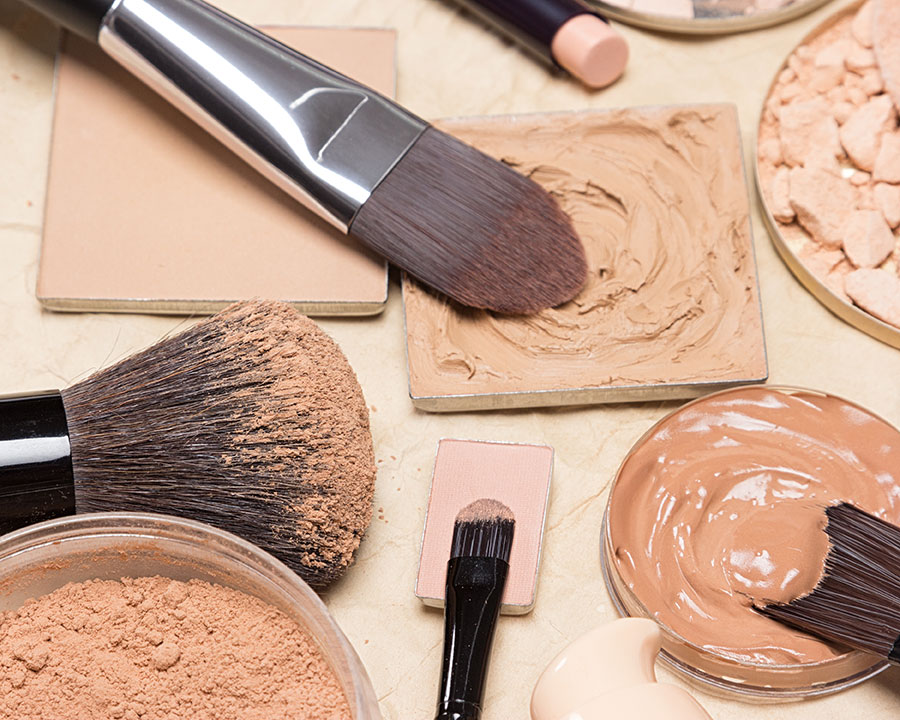 IT'S TIME TO TEST!
Right. So, you've chosen a product and a tint. Now it's time to see what it looks like on your skin. Check the internet for swatches of various colours tested on different types of complexion. Remember, these are just to give you an idea. Each person's skin is unique, and the skin tone in the photos is often retouched, so the best thing to do is to visit your cosmetics department and try them out for yourself. Feel free to ask the cosmetician for help. She'll give you a sample and can help guide you to an equivalent product if the tint you're looking for isn't available in your favourite brand.
To make the most of your test, remember these 5 tips:
Don't apply pigments to your hand. The complexion on your hands is darker than on your face, so it will only steer you in the wrong direction.
Test the foundation on clean skin, free of other makeup products that can alter their colour.
Use the side of your jaw as the test area: it will be easier to ensure there's no demarcation line with your neck.
Line up a number of colours, so you can better see which one blends best with your complexion.
Take note of the lighting. If you can, try to step outside into an area without shade to see how the product looks in natural light
It's also good to remember that a foundation that looks right in winter might not blend well with your summer complexion and vice-versa.