A perfect complexion is the key to successful makeup. The natural look has been popular for some time now, and the trend is continuing into this autumn. Here are the steps to follow to get that peachy complexion.
PREPARING THE SKIN
First moisturize your skin with your day cream or a light fluid. Continue with a base for your complexion. What is it? A miracle product whose jelly texture softens the appearance of pores and fine lines and softens the lines. It is applied very easily with the fingers on the whole face. Your skin is now ready for makeup.
UNIFYING THE COMPLEXION
Opt for a liquid foundation that perfectly blends with the skin and retains its suppleness, for a natural and velvety effect. Apply a few drops to the middle of the forehead, on the cheeks and chin, and then brush it toward the outside of the face with a brush or sponge.
CORRECTING THE IMPERFECTIONS
Dark circles, pimples, redness? No problem! The solution: a palette of correctors covers several shades. Flesh tones camouflage imperfections, shape the face and make it radiant. Lilac brightens the complexion, and green is perfect for neutralizing redness. These shades can be blended to our liking: apply them individually, using the fingertips, on the desired areas.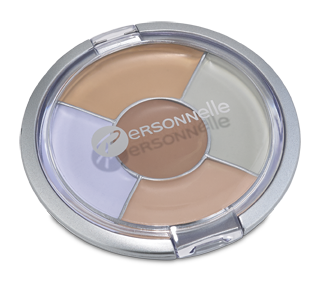 Personnelle Cosmetics
Corrector Palette, 10 g
Get a flawless complexion with the Personnelle Cosmetics Corrector Palette. Ultra-practical, it's perfect for covering up small imperfections. A must-have for your beauty kit!
ILLUMINATING THE POINTS OF LIGHT
The best-kept secret of professional makeup artists... points of light highlight the face. Using an illuminating highlighter, gently apply a small amount to these key areas: the top of the upper lip, the middle of the forehead, the bridge of the nose, the brow bone, the hollow of the chin and the top of the cheekbones. Then blend the product with your fingers into your makeup.
SETTING YOUR MAKEUP
Now that your complexion is flawless, seal your makeup with a translucent loose powder using a large brush on your entire face. The loose powder acts as a protective screen throughout the day. Do not hesitate to reapply the powder at any time if your skin becomes shiny.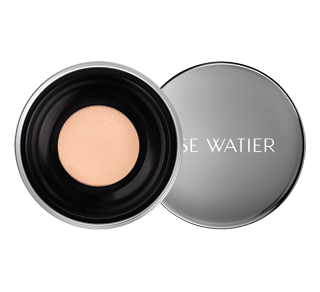 Watier
Teint Velours Hydrating Loose Perfecting Powder, 10 g
A light-as-air loose powder that sets and perfects makeup while providing a fresh and hydrating sensation.