There are as many eye shadow colours as there are tastes. But which are the must-haves? Take a closer look at the colours that enhance all eyes, and that transcend trends and time.
Classic beige
This is the Swiss army knife of your beauty kit. Applied to the inside corner of the eyes, this flesh-coloured eye shadow brightens and opens up your look. Patted onto the mobile eyelid, it makes the white of the eyes more radiant.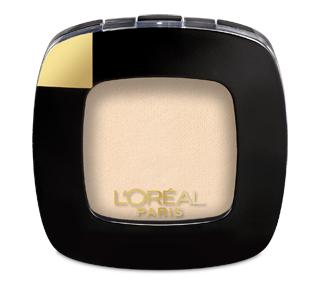 L'Oréal Paris
Colour Riche Mono Eyeshadow, 2.8 g
Our first gel-to-powder eyeshadow. Exquisite colour richness, smooth glide.
Gorgeous gold
Pearly gold (without glitter) is the best tool for luminous makeup that's both chic and classy. It gives radiance and enhances all irises when applied to light spots at the centre of the eyelid and blended below the brow line.
Jet black
This is the only shade you need for a classic smoky eye. Simply shade in with a long-bristle brush to create a gradation: the pigments should be more concentrated at the outside corner and crease of the eyes, and more diffused in the inside corner.
Hot chocolate
Brown eye shadow is the secret weapon of renowned makeup artists. Apply it to the crease of your eyelid to define your look, or along the upper and lower lash line with a bevelled shadow brush. It's also perfect for creating softer smoky eyes.
Deep navy blue
Applied like an eye pencil to the upper and lower lash line, navy eye shadow gives subtle, natural radiance to eyes of every colour, and also enlarges their appearance. To intensify the effect, pair it with blue mascara.