What does eczema of the eyelids and hands look like?
The severity of eczema can vary from one person to another, or even from one flare-up to the next. Generally speaking, it's recognized by the presence of red, dry, irritated patches and it sometimes causes fluid-filled blisters. The patches themselves may itch, peel, burn or pull off easily.
On the eyelids, these symptoms can coincide with puffiness and weeping and can affect just one eye or both.
On the hands (backs of your hands, palms or fingertips), the skin can crack, causing deep, sometimes painful fissures.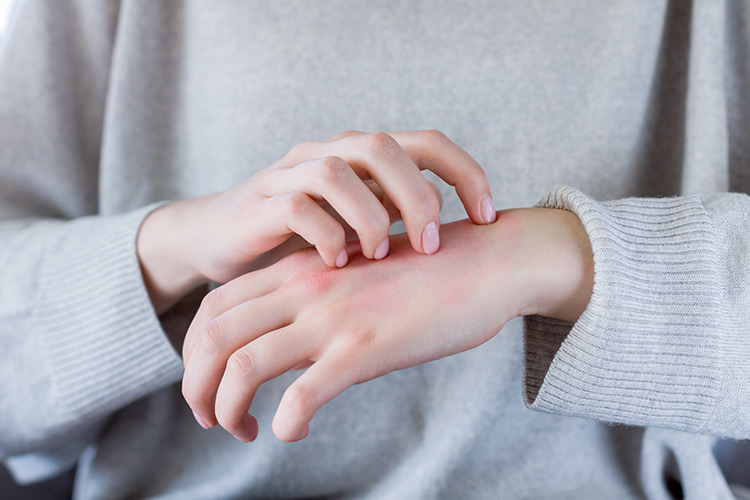 What causes these eczema lesions?
While the exact cause of eczema is not yet fully understood, we do know that certain factors, like genetics, can influence its development and progression. When it occurs on the eyelids or hands, eczema is often linked to:
1. An allergic or inflammatory reaction
Face-care or hair-care products, hair colouring, make-up, nail polish, contact lenses, household products, metal objects (keys, rings, etc.), pollen... There are so many substances that come into contact with our hands and eyelids (we touch our eyes all day long!), and they can all contain potentially irritating or allergenic elements.
2. Atopic skin condition
Atopic skin is hypersensitive to its environment and reacts strongly to irritants, like friction of clothes, rapid changes in weather, sweating, certain foods, stress, exposure to allergens, etc.
Caution: vulnerable zones!
The skin on your eyelids and around your eyes is three to four times more sensitive than the skin on the rest of your face. What's more, residue can build up in the folds of the skin, and this area has very few sebaceous glands, which means it has less protection from external aggression—all of which make it particularly susceptible to irritation and eczema.
The skin on your hands is constantly being used, so it's highly exposed to potential irritants.
What type of products offer relief?
When eczema flare-ups occur, it's best to consult with a health professional for advice and appropriate treatment. You can also try adding specific types of treatments to your beauty routine, and adopting good habits to help relieve symptoms and minimize future flare-ups.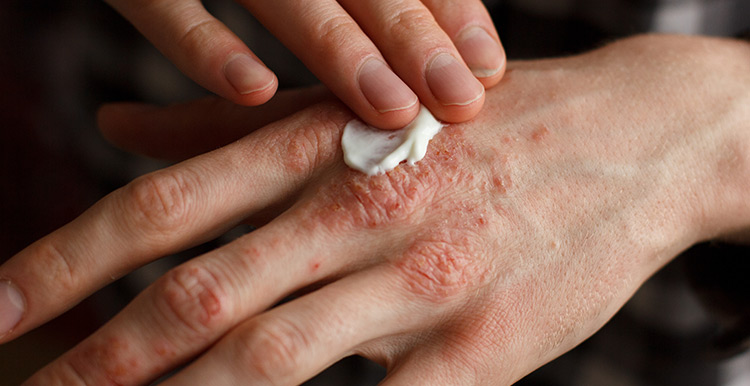 Eyelids
In terms of care products, choose gentle, hypo-allergenic, sensitive skin friendly cleansers and moisturizers that soothe the itching, while nourishing your skin deeply and strengthening it— without aggravating the situation.
You'll also want to ensure you…
Clean your skin morning and night: remember to be gentle.
Use makeup products that are easy to remove.
Use gentle hair-care products and nail polishes.
Avoid touching your face and washing your hands too often.
Wear sunglasses when you're outdoors to protect your eyes from the sun.
Hands
In terms of care products, choose rich, soothing and emollient repair creams that form a barrier to protect you against daily aggressions. Use as needed throughout the day, and make sure you apply a generous layer before going to bed.
Also remember to wear gloves when you're doing your household chores and, as needed, you can also wear gloves when you go to bed to ensure your creams are fully absorbed while you sleep.