THE TRENDY INTELLECTUAL
Your personality: You're a techno-geek and a gadget lover and you do more than follow the latest trends, you help set them. You know everything about any subject, and you love being original and unique.

We suggest: CK2 by Calvin Klein

Perfume: CK2 was one of the first unisex perfumes (a fragrance for both men and women) available on the market. A fragrance that embodies your love of life and celebrates the diverse connections between two people. A scent that has come to symbolize Generation Z!

Notes: The lovely bottle is shaped like an upside down pill and holds a perfume with base notes of wasabi, tangerine, violet leaf and a refined combination of woody notes.
THE ADVENTUROUS SPIRIT
Your personality: A keen sportsman through and through, you're always ready for your next exhilarating adventure. One thing is certain: you'll never stop planning ways to keep busy and you'll always meet your challenges head on!
We suggest: L.12.12 Blanc by Lacoste
Perfume: Inspired by the classic elegance of the white Lacoste polo shirt, this fresh and light scent has everything going for it, and is especially ideal for the summer.
Notes: At the heart of this refreshing and reinvigorating scent is grapefruit, tuberose and cedar. So simple, yet so enchanting!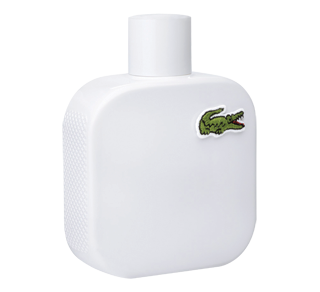 Lacoste
Eau de Lacoste L.12.12 Blanc Eau de Toilette, 100 ml
LACOSTE has captured the essence of the timeless LACOSTE L.12.12 polo shirt in a collection of fragrances: EAU DE LACOSTE L.12.12. These masculine scents all capture the feeling of lightness, coolness and freshness the petit piqué fabric gave René Lacoste when he wore it, and each is adorned with the now legendary crocodile logo that was inspired by the tenacious champion's nickname. EAU DE LACOSTE L.12.12 Blanc is a timeless classic with a masculine and woody tenacity.
THE MANLY MAN
Your personality: Proud, confident, charming and seductive, your entire demeanour screams manliness. You are focused on winning every battle or challenge you undertake. Your competitors should be worried!
We suggest: Invictus by Paco Rabanne
Perfume: A woody cocktail that pairs two unexpected energies: ecstasy and addiction. A sensation of pure vitality and refreshing vibrancy that will get your adrenaline pumping. A sensual, seductive magnetism that symbolizes the raw power of a man.
Notes: What makes this fragrance fit for a champion? Grapefruit pith, bay leaves, labdanum resin, guaiac wood and hints of nautical notes paired with ambergris. A virile concoction!
THE STYLISH TRENDSETTER
Your personality: You put a lot of time and effort into your appearance. You've got style and a strong personality. Your closet contains only the latest fashion trends, impressing your many conquests. You are a real charming gentlemen.
We suggest: Mr. Burberry by Burberry
Perfume: The olfactory male counterpart to My Burberry, Mr. Burberry is a fresh woody fragrance inspired by the iconic Heritage trench coat invented by the famous London fashion house. It's chic, classic and has instantly achieved mythic status.
Notes: Grapefruit, tarragon, cardamom, birch leaves, nutmeg, cedar, vetiver as well as sandalwood and guaiac wood are at the heart of this timeless masculine scent.
THE BUSINESSMAN
Your personality: You're passionate about your career and you've invested a lot of time and energy into it. Your office is your second home: you're completely at ease there and feel you're where you truly belong. Strange, but true, last-minute projects and important presentations fuel your hunger to succeed. And you're extremely ambitious!
We suggest: Code Colonia by Giorgio Armani
Perfume: Determination, elegance and power: the three qualities of an admirable career man, artfully blended in this eau de toilette... sensual, discreet and complex.
Notes: The secret to the success of Armani? A well-balanced blend of bergamot, mandarin and rose hips, enhanced with clary sage and orange blossom, set against a rich amber foundation. Irresistible!