Do you dream of a few minutes of tranquillity and relaxation? Creating a spa atmosphere in the comfort of your own home is not rocket science. Whether you have a few minutes or hours, here are some tips and essentials to pamper yourself. May the relaxation begin!
EXPRESS ROUTINE:
30 minutes
Turn your face care ritual into a moment of relaxation. How? Close the bathroom door and leave your distractions behind. Play background music and dim the lights.
1. Cleansing.
Start by removing make-up and thoroughly cleansing your face. Pour water on the Face It cleansing facecloth from Cloth in a Box and massage your face in a circular motion. This high-performance facecloth removes all traces of makeup with only water.
Discover the Face It cleansing facecloth from Cloth in a Box
2. Exfoliation.
Apply a gentle exfoliating scrub on wet skin to remove dead skin cells and then gently massage the entire face in circular motions. This step is essential for a brighter complexion and refined skin texture. Repeat once or twice a week.
Discover the Moisturizing radiance scrub from Jean d'Estrée
3. Hydration.
For a complete facial treatment, apply a moisturizing mask and a skincare product for the eye area (cream or patch) that will act simultaneously. After the recommended application time, rinse and apply a day or night cream depending on the time of day. Finish with a nourishing lip balm.
Discover the Cold Cream lip balm from Avène
Pro tip: For greater relaxation, choose aromatherapy! Use an essential oil diffuser: the scent will fill the bathroom while you pamper yourself. Pour a few drops of lavender, bergamot or lemon balm oil, all known for their soothing properties. Rosemary and citrus oils will have a tonic effect.
Discover the ultrasonic essential oil diffuser by Jean d'Estrées
COMPLETE ROUTINE:
2 hours
1. Soak in a bathtub.
There is nothing better than hot water to loosen muscle tension. Complement the experience with bath salts or a bubble bath, then light a few candles.
We like lavender and eucalyptus bubble bath from Bleu Lavande, which combines the soothing benefits of lavender and eucalyptus.
2. Get a new look.
There's nothing better than an exfoliating scrub to give skin a radiant new look! After soaking in the bathtub, while the skin is still wet, massage your entire body with an exfoliating scrub, paying special attention to drier areas. For the face, choose an exfoliating scrub that eliminates dead skin gently and without rubbing thanks to natural acids and fruit enzymes.
We like 5 in 1 Firming Body Peeling with citrus from Karine Joncas, which exfoliates the skin gently thanks to bamboo and lemon peel particles. The smell of citrus is divine!
3. Moisturize from head to toe.
Once dead skin cells have been removed, smother your body with a rich moisturizer. Focus on the neck and décolleté, areas too often forgotten, and on dry areas like elbows and knees. For your face, apply a mask for few minutes according to your skin's needs, then rinse before applying your favourite moisturizer.
Discover the new Génifique mask from Lancôme
4. Pamper your hands and feet.
After soaking in the bathtub, this is the perfect time to pamper your feet. Massage them with a coarse exfoliating scrub, then rinse. Rub them gently with a pumice stone to remove calluses. Apply a cream composed of 10% urea for an intensive moisturizing treatment, then put on a pair of cotton socks. For your hands, apply an exfoliating scrub and focus on the area around the nails. Coat them with a good hand cream and put on cotton gloves while the cream is absorbed.
Discover the Atoderm hand cream from Bioderma
Discover the foot cream from Caudalie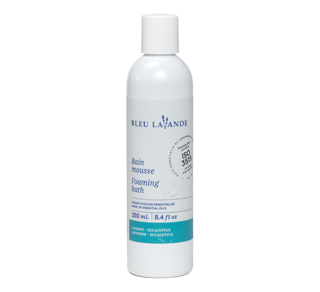 Bleu Lavande
Foaming bath, 250 ml, Lavender-Eucalyptus
Unctuous foam with toning oils Relaxing and expectorant effect Soothing and moisturizing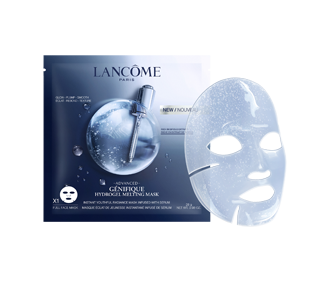 Lancôme
Advanced Génifique Hydrogel Melting Mask, 28 ml
A new type of sheet mask. The hydrogel melting mask delivers results which are instantly visible on the skin. A perfect response to the needs of a generation that is always pressed for time. Youthful radiance. Plump. Smooth.