Dryness, cracking, pain... How can you put an end to chapped lips for good?
Try this easy, four-step care routine!
Why do lips get chapped?
The skin on our lips is much thinner than the skin on the rest of our face. What's more, doesn't have sweat glands or sebaceous glands to protect it and preserve moisture. So, it's much more vulnerable to external damage caused by wind, the cold, the sun, etc. It also dehydrates more quickly and more easily than other parts of the body. That's why our lips become so dry and cracked, particularly during really hot or cold periods.
1. EXFOLIATE
First, it's essential that you remove all dry skin from your lips. To help, choose a treatment that has natural exfoliating particles (like sugar grains, for example)—preferably one that's enriched with moisturizing ingredients like vitamin E and shea butter. This will help smooth the surface of your lips while removing dead skin cells, which will help the delicate skin of your lips regain their optimal level of hydration.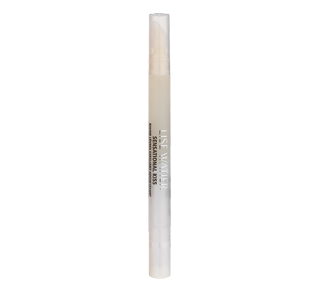 Watier
Sensational Kiss Exfoliating Lip Balm, 1.9 g
This innovative lip balm exfoliates and hydrates for ultra-soft, sensational lips. Its formula contains fine sugar crystals that eliminate dead skin cells and dissolve automatically. Enriched with shea butter and vitamin E, it hydrates, nourishes and protects lips. Paraben-free. Tested in clinical trials and under dermatological control.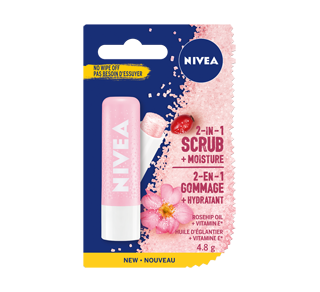 Nivea
2-in-1 Lip Moisturizing Scrub with Rosehip Oil & Vitamin E, 4.8 g
Nivea 2-in-1 moisture + scrub lip balm makes it easy to keep your lips feeling super soft and hydrated. This exfoliating lip balm formula is enriched with rosehip oil and vitamin E to help with chapped lips. The exfoliating particles dissolve on their own - so you don't have to wipe anything off after application. This moisturizing lip balm is suitable for daily use and all lip conditions. Just throw this lip scrub in your bag and show your lips a little love throughout the day.
2. MOISTURIZE
Keep a highly nourishing lip balm handy throughout the day, and make sure you apply it to your lips regularly. It's an essential step to restoring and maintaining your lips' resistance to harsh weather and pollution. If you have really chapped lips, it will also help soothe the pain that's often caused by cracked lips.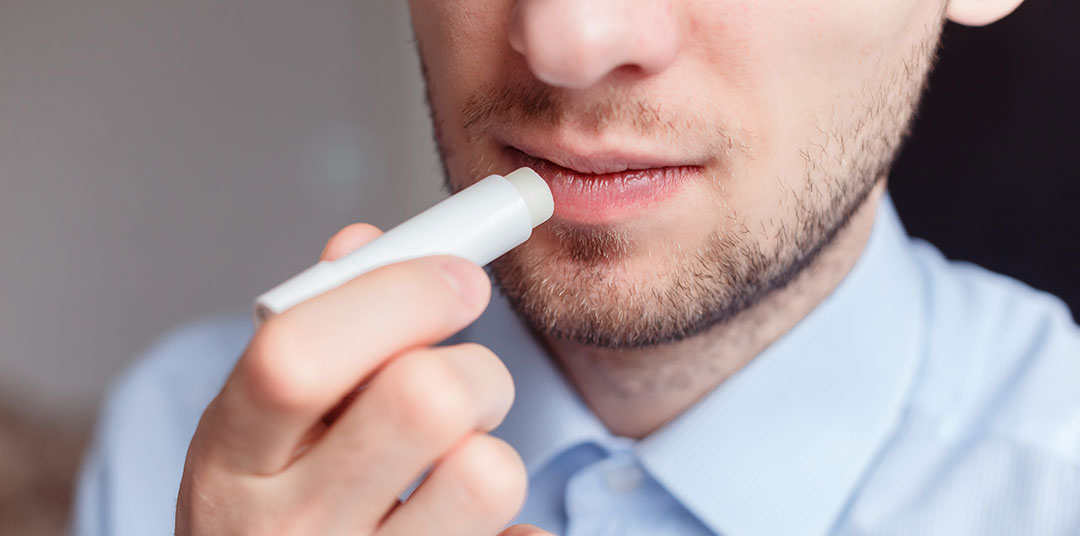 Here are a few key ingredients to look for in your lip balm...
Jojoba oil soothes, repairs and prevents dehydration.
Aloe vera has therapeutic antibacterial and restorative properties.
Coconut oil is easily absorbed, is recognized for its emollient qualities, and is both nourishing and ultra-moisturizing.
Shea butter helps heal small cracks, restores the elasticity of your skin and renews your lips' natural colour.
Vitamin E soothes and regenerates.
Olive oil softens and repulps your lips.
Beeswax protects against external aggressions and helps keep the moisture in.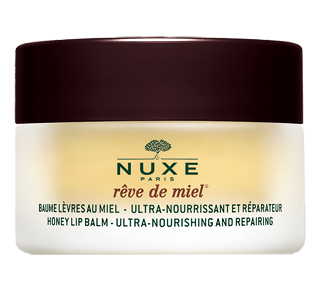 Nuxe
Rêve de Miel Ultra-Nourishing Lip Balm, 15 g
Repairing Lip Balm with honey - Nourishes, repairs and protects Ultra-dry and damaged lips Treat your skin with the restorative power of honey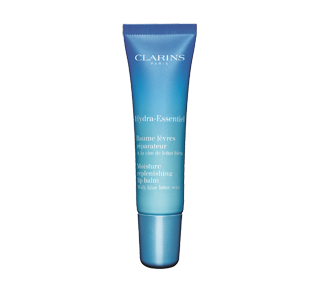 Clarins
Hydra-Essentiel Moisture Replenishing Lip Balm, 15 ml
Hydrating, restorative lip balm.
3. TAKE CARE OF THE CONTOUR OF YOUR MOUTH
Speaking, smiling, tension... The fine skin around the outside of your mouth is subject to almost constant movement. So, naturally, wrinkles develop there more quickly than elsewhere on your face. What's more, these marks are seen more easily when your skin is dehydrated. So, it's important to provide that area with active plumping ingredients and a healthy dose of antioxidants, to fight signs of premature aging.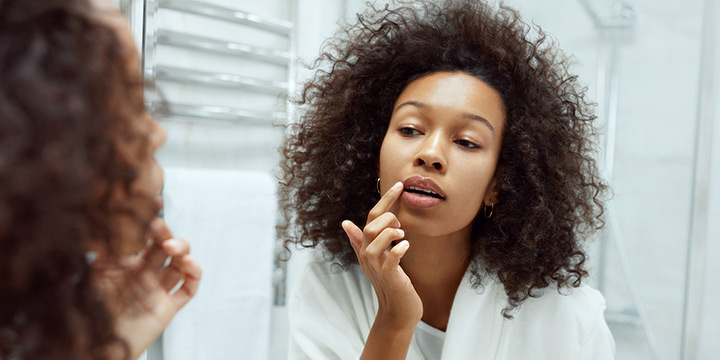 4. CHOOSE YOUR MAKEUP PRODUCTS CAREFULLY
To complete your moisturizing care routine, look for versatile products that combine makeup and care: tinted balms, lipsticks or gloss that's enriched with soothing oils or moisturizing agents, etc.
It's a great way to protect and beautify your lips while restoring their natural radiance and suppleness.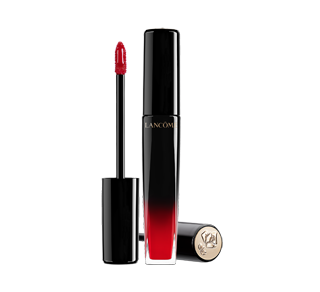 Lancôme
L'Absolu Lacquer Lip Gloss, 8 ml
Are you ready to lead the way, brilliantly? If yes, Lancôme is pleased to unveil its lip product L'Absolu Lacquer. Its lightweight and ultra thin formula coats the lips with vivid colors & lacquered shine finish. Its precise applicator provides a buildable shine color & enables you to build your lip intensity the way you want. Be brilliant the way you want it to be and do not be afraid to lead the way, your way: choose your color and build your intensity! From nude to vivid colors, our shades will satisfy all of your desires.