Cellulite doesn't discriminate! It affects 80% to 90% of women regardless of every age or body type. But what is it exactly? And how can you deal with it? The answers are all right here.
WHAT IS CELLULITE?
Generally found on the thighs, buttocks or stomach, cellulite makes our skin look bumpy or dimpled. It appears when blood vessels are compressed (which impairs their ability to eliminate waste and drain fluids properly) or when certain types of pressure are exerted against the collagen fibres that support our skin.
Where does the pressure come from? It all depends on the type of cellulite...
Adipose cellulite is caused by a swelling of fat cells (or adipocytes), which generates inflammation. Soft and generally painless, it becomes visible when the skin is pinched.
Aqueous cellulite appears when our body can't properly eliminate fluids—often because of a circulation problem—so they swell up under the skin. Visible at all times, it can sometimes cause a feeling of heavy legs.
Fibrous cellulite develops when the collagen around the adipocytes hardens and trap the fat. This type of cellulite is sometimes accompanied by pain or discomfort.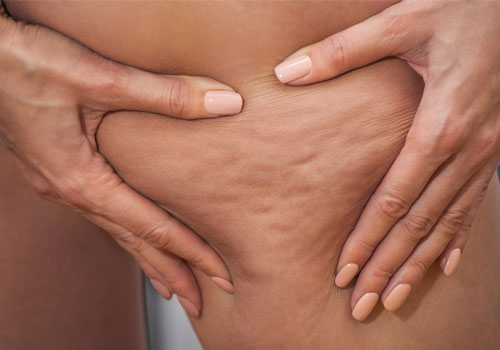 WHAT CAUSES IT?
The exact causes of cellulite aren't well known, but two main factors seem to affect its development:
Genetics, which determine the structure, thickness and texture of your skin.
Hormonal variations, which can have an influence on blood circulation, collagen production and the volume of fat cells.
WHAT CAN BE DONE ABOUT IT?
Cellulite can be painful or uncomfortable. It's also aesthetically unpleasant. But whatever your reason for wanting to deal with the issue, there is hope!
Targeted care
Certain products contain formulas that stimulate blood circulation and restore the elasticity of your collagen fibres. In addition to their decongestant action that helps the body rid itself of fluids and cellular waste, these products can help restore your skin's tone and suppleness.
Physical or mechanical techniques
To reach their optimal efficiency, these products have an ally: the palpate-and-roll technique. This type of massage kneads the deepest layer of your skin, where fat cells are lodged. The goal: to unclog tissues and stimulate fat elimination... all in 3 or 4 minutes!
Here's how to become a pro:
1. First, warm your skin. Place a small dab of anti-cellulite cream in the centre of your palms, then place your hands on either side of your knee with your thumbs touching. Move your hands up your thigh while exerting light pressure on your leg.
2. Next, place both hands on the outside of your hip then pull the skin towards the centre. It's an easy way to get the best grip on your skin.
3. Begin massaging. Grab a fold of skin between your hands and pull it towards the centre while kneading the skin, like you would with dough. Use the same technique on your stomach or buttocks as needed.
4. Then, using your thumb and index finger, grab a small fold of skin just above your knee and roll it upwards. Repeat until you've covered the entire area desired. Make sure you work from the bottom up, to avoid loosening muscle tissue.
5. For the inside of your thigh, grab the skin with both hands and apply a twisting motion as though you were wringing a towel. But remember: be gentle!

Careful:
the palpate-and-roll technique can be painful, especially the first few times. Be sure to adjust your pressure so it doesn't hurt too much! If you're not comfortable with the technique, there are tools that can do the work for you, reproducing the hold and guiding your movement.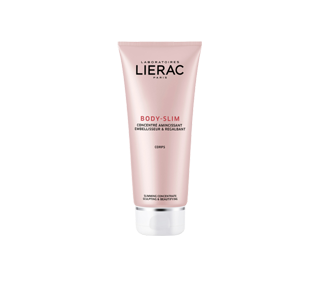 Lierac Paris
Body-Slim Firming Concentrate Beautifying & Slimming, 200 ml
Body-Slim is able to act both on the appearance of the silhouette and on the quality of the skin, to give it a tighter appearance. The silhouette seems refined. The elasticity of the skin is improved, it looks more beautiful. Blended with a complex of three powerful active ingredients for a tightening effect.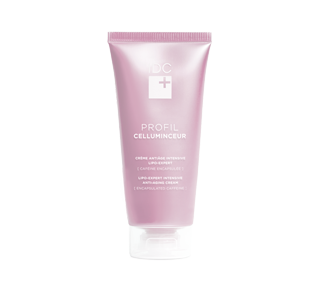 IDC Dermo
Profil Celluminceur Lipo-Expert Intensive Anti-Aging Cream, 150 ml
PROFIL CELLUMINCEUR targets stubborn curves and reduces the appearance of cellulite and dimpling. This cream is deliciously iridescent, instantly brightening targeted zones using light reflective pigments. The Lipo-Expert Complex provides this all in-one-cream with the power to restore your skin's youthful shine. Celluminceur's innovative properties offer triple encapsulation technology allowing for the progressive release of caffeine for a single daily application without compromising effectiveness. This all-in-one product combines cutting-edge anti-ageing ingredients with a multi-molecular hydrating complex to soothe and soften the skin while fighting dehydration, making it the perfect after sun care product. Includes HYDRATION 3D technology for complete, long-lasting hydration. Smooth, supple skin appears firmer, better toned, with visibly reduced and redefined contours without weight loss. The ultra-complete EXPRESS PROFIL Celluminceur combines our Lipo-Expert Complex with the demonstrated efficiency of REGEN(16) and an exclusive IDC patented technology to simultaneously address all 16 signs of skin ageing. REGEN(16) technology visibly reduces the effects of time and re-educates the skin to regain its youthful appearance.