Most skincare products are developed in laboratories, but that doesn't mean they don't get their potency from nature. Here are a few plants that boast great properties and have the power to turn anyone into a natural beauty!
Herbal heroes: Lavender, vines, mint and rosemary
In addition to its delicate fragrance, lavender boasts several beneficial properties. It acts as an antidote to anxiety, relieves migraines and, when used in oil form, helps to effectively treat head lice. Vines aren't just used to produce wine—the polyphenols found in grape seeds are among the most powerful natural antioxidants in the world, and Caudalie is starting to use them in many of their products. Mint helps soothe digestive problems and when used in cream or oil form, acts as a natural antiseptic and painkiller (great for muscle and joint pain and migraines). Rosemary, widely used in Mediterranean cuisine, is also known for its medicinal properties. Its relaxing properties make it the perfect ingredient for bubble bath and it helps prevent rheumatism.
Our picks:
Body milk by Bleu Lavande
Polyphenol (C15) anti-wrinkle eye & lip cream by Caudalie
Essential oils by Lotus Aroma: lavender, mint, eucalyptus, etc.
Back to basics
Many flowers, herbs and grains have proven to be beneficial to the skin. That's especially true of rosehip, whose vitamins and minerals help to fight signs of aging, tone skin and and tighten the skin around the eyes. Carrots, in addition to their anti-aging properties, are also bursting with a powerful antioxidant known as beta-carotene.
Marshmallow root, Centella asiatica and calendula help soothe dry, sensitive or irritated skin, while hawthorn and wild pansy are great for oily or acne-prone skin.
Green tea is rich in antioxidants and has several beneficial properties—it helps prevent the signs of aging, gets rid of dark spots under the eyes, defends against sun damage and accelerates weight loss.
Our picks:
Blackhead clearing green tea scrub by St. Ives
Gentle soothing water by Jean d'Estrées (with Calendula, Camomile, St John's Wort and Linden extracts).
Aquatic treasures
Algae boast innumerable benefits. While each species has its own unique properties, all algae contain considerable amounts of vitamins, minerals, trace elements, antioxidants, protein, amino acids and essential fatty acids.
Chlorella is a green algae commonly used in skincare. It is rich in chlorophyll, peptides and protein (our bodies actually produce their own peptides and protein). Chlorella stimulates cell regeneration and promotes collagen synthesis, which helps improve skin's elasticity.
Although algae treatments are available almost exclusively in spas, you can still find several pharmacy products that boast their virtues. So go ahead, dive into some aquatic therapy!
Our picks:
Purifying cleansing gel by Nivea
Mattifying day cream by Nivea
Skin-Best intense night recovery balm by Biotherm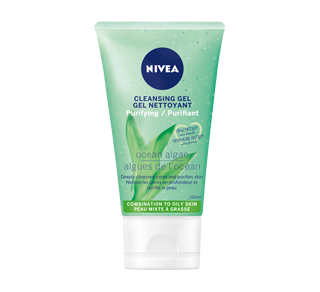 Nivea
Purifying Cleasing Gel, 150 ml
Enriched with Ocean Algae and Hydra IQ, this cleansing gel deeply cleanses pores and purifies skin.