We tend to smile to make the apples of our cheeks stand out so we know where to apply our blush, but there are several other ways of applying it. In fact, the technique you use changes depending on your face shape. It's therefore important to identify which technique will enhance your best features.
THE BASIC PRINCIPLES
For a natural look, remember these two golden rules:
Do not go too close to your nose. Always start your blush line one finger widths away from the side of your nose.
Do not apply any blush on the lower half of your cheek. Imagine a horizontal line going from the bottom of your nose to your hairline—stay above that line to avoid getting too close to your mouth.
APPLICATION… LET YOUR SHAPE GUIDE YOU
Oval/long
Oval faces are longer than they are wide; neither the forehead nor the jaw line is too prominent.
The technique: To help balance out the face and make it look less elongated, apply your blush in straight, horizontal lines, from your cheekbone to your ears.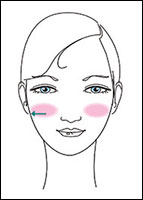 Round
Round faces are almost as wide as they are long. Cheeks and cheekbones are quite prominent.
The technique: Use blush to add definition to your face and make it appear thinner. Suck in your cheeks to identify the naturally concave part of your face then apply some blush right above that area.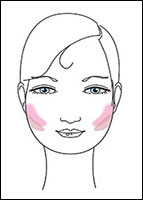 Square
In square faces, the jaw is very prominent and usually as wide as the forehead.
The technique: To lengthen your forehead and soften the edges of your face, apply your blush in half moons. Start at the apple of your cheeks, trace your cheekbones and finish at your temples. Draw a loose 8 with the brush so that the blush is well blended and looks natural.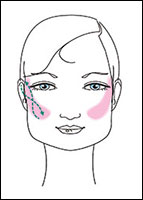 Heart-shaped
Heart-shaped faces feature foreheads that are wider than the rest of the face, chins that are slightly pointed and prominent cheeks.
The technique: As your cheeks are already quite rounded, it's best to avoid applying blush to the highest part: your cheekbones. Find your cheekbones by gently prodding your cheeks and apply the product right below the bone, concentrating on the apples of your cheeks.