Few beauty products are as popular with men as scented shower gels. Just for you gentlemen, here are six products you need to try.
Nivea Men Energy Shower Gel for Body, Face and Hair
What it is: This shower gel is formulated with mint extract and enriched with a reinvigorating fragrance to cleanse and hydrate your hair and body in no time at all.
What we love about it: This is a product that provides a long-lasting fresh scent and reinvigorates the senses while concealing the signs of stress and fatigue. Its 3-in-1 formula make it the perfect item to put in your gym bag or travel kit.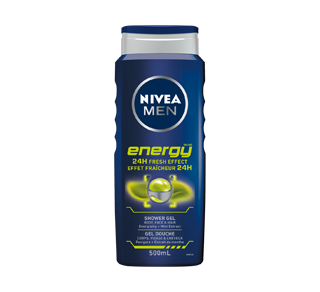 Nivea Men
24H Fresh Effect Shower Gel, 500 ml, Energy
Fro men who want revitalize and refreshing skin care.
Dove Men+Care Body & Face Wash for sensitive skin
What it is: Specifically designed for sensitive skin, this body and face wash deeply cleanses the skin without drying it or making it feel tight. Its clinically proven MICROMOISTURETM technology also helps prevent your skin from dehydrating.
What we love about it: It's a product that cleanses and hydrates the skin to make it softer and silkier.
Vichy Homme Hydra Mag C Body & Hair Shower Gel
What it is: A combination of Vichy thermal water, hydrating agents, magnesium and Vitamn C make it a body and hair wash that cleanses, hydrates and reinvigorates all at once.
What we love about it: Non-comedogenic, paraben-free, soap-free and hypoallergenic, this product gently soothes sensitive, irritated or inflamed skins.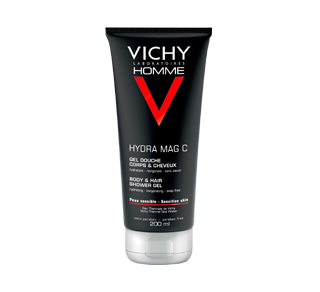 Vichy Homme
Hydra Mag C Shower Gel, 200 ml
For men wishing to cleanse and invigorate their hair and body in one single step.
Axe White Label Forest shower gel
What it is: This 2-in-1 product for body and hair was developed to cleanse and refresh. Use it in the morning and you'll start the day off on the right foot.
What we love about it: Its incredible yet delicate fragrance that blends pear, starfruit, driftwood and moss notes to remind you of a walk in the woods in the early morning light.
Personnelle Arôme noir 3-in-1 body wash, shampoo and conditioner
What it is: The star ingredients of this all-in-one delicately scented product? Vitamin E, which restores the skin's natural hydric balance, and aloe, which treats, soothes and softens irritated or sensitive skin.
What we love about it: Thanks to its hydrating agents, this formula not only washes your body and hair, it deeply nourishes them.
Biotherm Aquapower, refreshing, detoxifying Shower Gel
What it is: A paraben-free formula enriched with an antiperspirant complex and life plankton that includes incredible regenerating properties to wash your body and hair and eliminate toxins and impurities.
What we love about it: Its powerful formula deeply cleanses while providing a feeling of intense hydration and freshness that lasts all day.