If your skin is in need of intensive moisturization, dry oils are for you. Known for their multiple virtues, these miracle oils should take centre stage in your beauty bag.
The benefits of dry oils come from their composition.
Mostly consisting of sweet almond, rose, apricot, coconut or tiara oil, they are high in fatty acids, vitamins and antioxidants, and do wonders for your skin. In addition to providing deep moisturization, dry oils have firming and anti-aging properties, and are great at fighting stretch marks.
Tip: If your body moisturizer no longer has the desired effect, it's time to try a dry oil treatment to help your skin become firm, soft and glowing again.
Easy application
Dry oils possess benefits that oils with traditional textures don't have. They are non-greasy, so they quickly penetrate the skin. They don't leave a greasy film on your skin, so you don't have to wait before getting dressed.
It's best to apply dry oils after showering, using light strokes, on dry or damp skin.
We like: OGX Moroccan Argan Oil Mist. A moisturizing, regenerating antioxidant… Argan oil has everything going for it! A few spritzes are all it takes to nourish, soften and give your skin back that glow you love.
Tip: Parched hair? A few times a week after showering, apply a small amount of Argan oil to the lengths and tips of your hair.
We like: Firmness, Tone & Elasticity Infused with 100% pure plant extracts, including rosemary, geranium and mint, Clarins' best-selling body oil wraps the body with an aromatic veil. It helps to firm and tone the skin, in addition to improving its elasticity. This reduces the appearance of stretch marks. In addition, the nourishing effect of the product is long-lasting: hazelnut oil retains the moisture to leave a smooth and soft epidermis.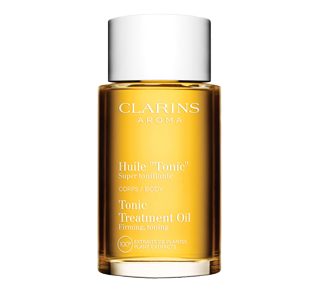 Clarins
Tonic Body Treatment Oil, 100 ml
Firmness, tone and elasticity 100% pure plant extracts
Talented oils!
Some oils are designed specifically to treat particular problems such as cellulite. This is the case for Nuxe Body-Contouring Oil for Infiltrated Cellulite, a specially formulated treatment that reduces the appearance of cellulite on stubborn areas. It breaks down and unclogs the skin, leaving it soft and smooth.