If your skin needs deep moisturizing, beauty oils are the answer. Recognized for their many benefits, these remarkable oils feature a number of unique ingredients.
Made primarily of sweet almond, rose, apricot, coconut or tiare oil, the oils are high in fatty acids, vitamins and antioxidants, which add much needed moisture to your skin.
The benefits of body oils can be obtained in several ways.
As a moisturizing skincare product…
Body oils offer many key benefits. For example, when applied to your body or face (yes, you can even use it on the delicate skin of your face), the oils help remove impurities. And, in addition to being a great source of moisture for your skin, they're also excellent makeup removers and cleansers, removing the harmful oils in your makeup without stripping your skin of the natural oils it needs.

Psst! Rest assured: body oils won't make your skin look greasy. On the contrary, they act as an antibacterial layer while helping to keep your natural oils in balance.
During massage…
Massage oils are known for their moisturizing and relaxing properties, and some even have specific benefits:
Hot oils offer total relaxation because the heat soothes your muscles while increasing their ability to absorb moisture.
Cinnamon or arnica oils help your muscles loosen and relax, which can help reduce pain.
Essential oils are great when added to your favourite massage oil as the combination of the two enhances their benefits. Some essential oils, like geranium, even help stimulate blood circulation. Others, like lavender, favour relaxation. Just decide what effect you're going for and choose the oils that are best for you.
As a treatment for your hair…
Body oils can also be used to moisturize and strengthen your hair, which helps protect it from damage and breakage. To moisturize your hair and scalp fully, just apply the oil the same way you would a hair mask.
Apply the pure oil directly to your hair and scalp.
Gently massage the oil from your roots to the tips of your hair.
Leave the oil on your hair for about 15 minutes.
Rinse out the oil with warm water.
Repeat once a week.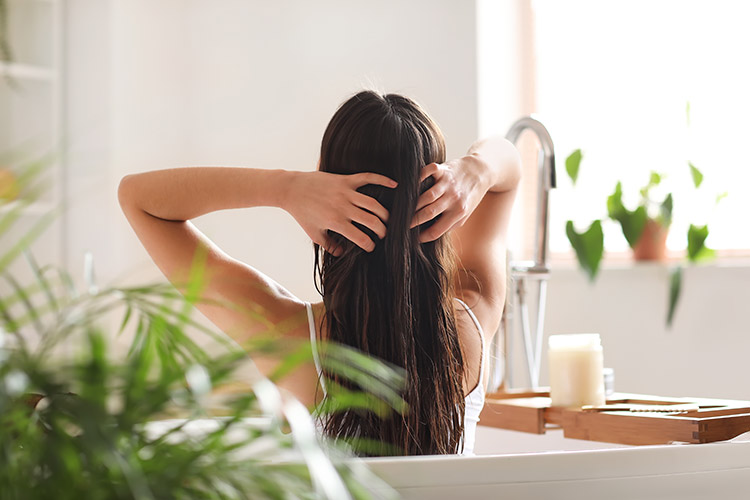 As a treatment for your nails…
Are your nails weak or brittle? No worries. Just apply one or two drops of oil to your nails and massage it in for a few minutes, paying extra attention to your cuticles. Then wash to remove the excess oil.
Oils are better for your nails than hand creams or lotions because they nourish more completely. The result is stronger nails that are less vulnerable and prone to cracking or breaking. Plus, the emollient effect of the oils helps your nails retain moisture which makes them more pliable.