The beauty benefits of clay:
different colours for different needs

Did you know that clay comes in several colours? And that each has its own properties? Learn more about the different types of clay and their unique benefits.
Red clay
Balances, tones and purifies
Used for its beauty benefits since the dawn of time, this natural mineral owes its colour to a high concentration of iron oxide. Naturally rich in trace elements, it stimulates microcirculation in the blood vessels to really wake up the skin.
For who? Red clay is suitable for everyone, and those with skin that is sensitive, irritated, tired or prone to couperose or redness will find it especially appealing.
The benefits:
Revives and brightens the complexion
Reduces redness and soothes discomfort caused by irritations
Mattifies and unifies the complexion
Acts as a natural colour in makeup
Absorbs excess sebum from the skin and hair
Restores body, silkiness and shine to hair
Purple clay
smoothens and purifies
For who? Perfect for people with dull or tired skin. With a low concentration of minerals salts, purple clay is the perfect ally for dry and fragile skin.
The benefits:
Detoxifies the skin
Restores softness to the skin
Boosts the complexion's radiance
Acts as colouring in makeup
Yellow clay
tones, oxygenates and exfoliates
With less iron oxide than green clay, yellow clay also causes less irritation.
For who? While it's suitable for combination skin, its gentleness is ideal for dry, sensitive and mature skin.
The benefits:
Cleanses while absorbing impurities
Stimulates the production of collagen
Oxygenates the cells
Revitalizes the hair
Strengthens fragile hair
Has natural anti-wrinkle properties
White clay
soothes, heals and revitalizes
White clay is rich in mineral salts and contains kaolin, an ingredient that helps repair skin and hair. It is one of the gentlest types of clay for the skin.
For who? As white clay is quite gentle, it is suitable for all skin types, especially sensitive, dry or mature skin. It also helps restore radiance to dry, fragile hair.
The benefits:
Antiseptic
Anti-inflammatory
Helps skin to heal
Softens and purifies the skin
Hydrates the hair
Pink clay
regenerates and soothes
A mix of red and white clay, pink clay enjoys the benefits of both. The result: an instant glowing complexion!
For who? Since pink clay cleanses the skin deeply with no irritation, it's an essential addition to your beauty routine if you have dry, sensitive or reactive skin. It is also recommended for sensitive scalps.
The benefits:
Restores radiance to the skin
Softens and hydrates the skin
Treats damaged skin
Eliminates redness
Smoothens the skin's texture
Revitalizes the scalp
Blue clay
hydrates and oxygenates
While this type of clay is quite rare, it's a serious antipollution ally. Blue clay is renowned for its gentleness and invigorating virtues, restoring vitality to both your hair and skin.
For who? For everyone! Blue clay is particularly effective for mature or oily skin, and for dry or coloured hair.
The benefits:
Removes impurities, pollution and dead skin
Oxygenates the skin
Restores radiance and brightness to hair and skin
Nourishes the hair
Repairs and protects the hair from external aggressors
Green clay
purifies and detoxifies
This volcanic rock contains more minerals than white clay, making it more absorbent and able to remove more toxins and impurities.
For who? Green clay is the perfect remedy for hair that is oily, shiny or dull. People with oily, combination or acne-prone skin will also love it, since it removes dirt from the skin and scalp, in addition to absorbing excess sebum.
The benefits:
Regulates sebum production
Fights acne
Reduces the appearance of blackheads and tightens pores
Mattifies the skin
Helps skin to heal
Fights dandruff
Purifies and balances the scalp
We suggest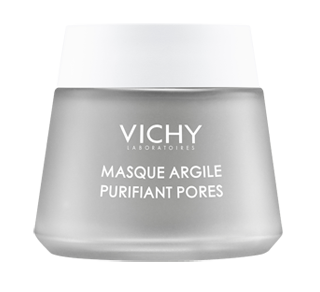 Vichy
Pore Purifying Clay Mask, 75 ml
Perfect for all skin types with a pore concern, this purifying mask helps skin feel softer, cleaner and clearer immediately. After only one month 83% less visible pores and 92% less dirt and pollution on the skin.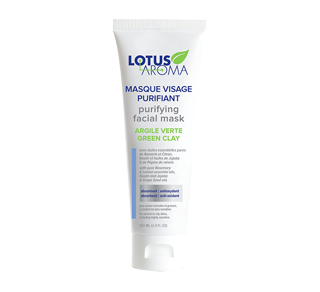 Lotus Aroma
Purifying Facial Mask Green Clay, 100 ml
Purifying, absorbant and anti-oxidant green clay facial mask.