Vichy,
the beauty ally
of all women

Since its founding in 1931, Vichy has accompanied women in their quest for healthy, radiant skin. Over the years, this brand of dermo-cosmetics has developed lines of skincare products adapted to your specific needs, age and skin type (even the most sensitive skin). Here's our guide!
IN YOUR THIRTIES, GIVE YOUR SKIN IDÉALIA!
Stress, fatigue, overdoing it—your skin reflects your hectic lifestyle. At 30, your skin begins to show the first subtle signs of aging. Some women also notice a change in their complexion, which can lack radiance. As your skin's needs change, so should your skincare ritual. That means it's time to say goodbye to your basic moisturizer!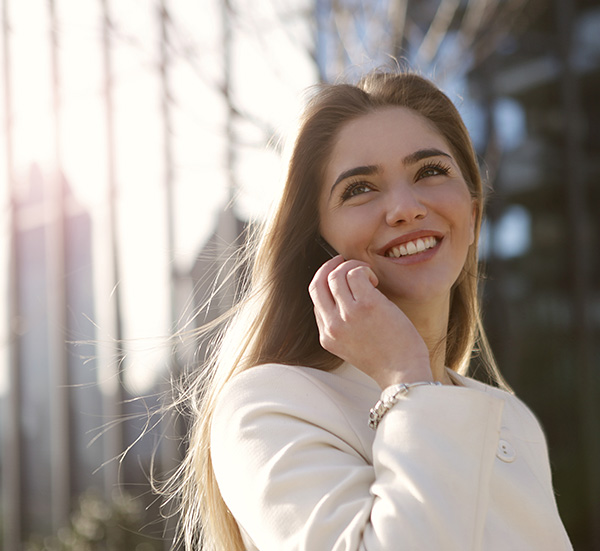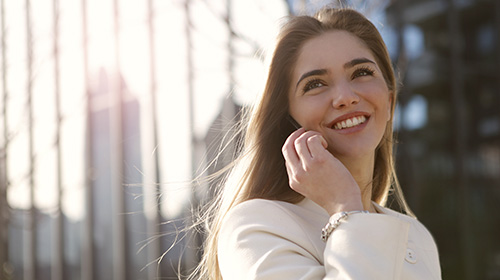 The IDÉALIA range features:
Anti-fatigue eye care
A radiance booster serum
Day care (normal to combination skin)
A gel-cream (combination to oily skin)
Day care (dry skin)
A night peel
A restorative night gel-balm
Two BB creams: light and medium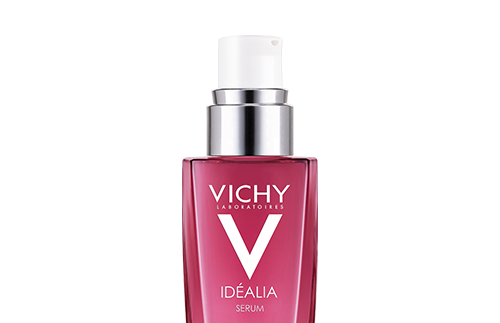 Its mission
Provide the skin with all the tools necessary to battle daily aggressors: pollution, wind, stress, etc. How? By loading it with powerful active ingredients that correct the first signs of aging (fine lines, dilated pores and lacklustre complexion) while preserving the skin's health and youthful appearance.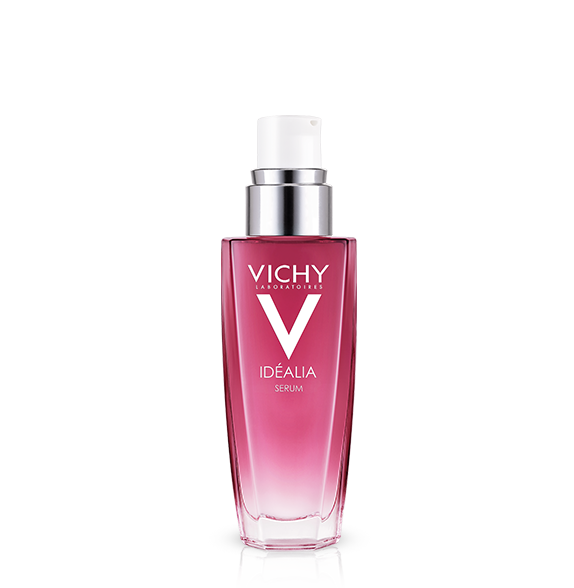 The star ingredients
Idéalia's antioxidant complex is composed of fermented black tea extract (to even out the complexion), blueberry extract (to prevent wrinkles) and Vichy's renowned thermal water (to help the skin regenerate).
The results
Day after day, you'll notice your skin looks more radiant, fine lines appear smoother and pores are visibly reduced. Idéalia gives your face a serious boost. Get ready to glow all day long!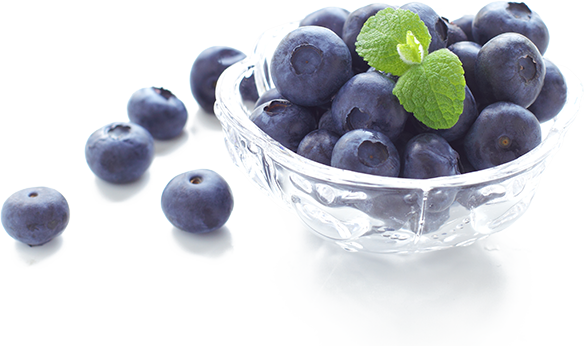 IN YOUR FORTIES, GIVE YOUR SKIN LIFTACTIV!
At 40, you're still young! However, a good night's sleep may no longer be enough to erase signs of fatigue and the harmful effects of harsh elements. Sun exposure, stress, a hectic lifestyle and a busy schedule all add up over the years and leave their marks on your skin. Your main focus is no longer moisturizing and nourishing your skin, but slowing the aging process.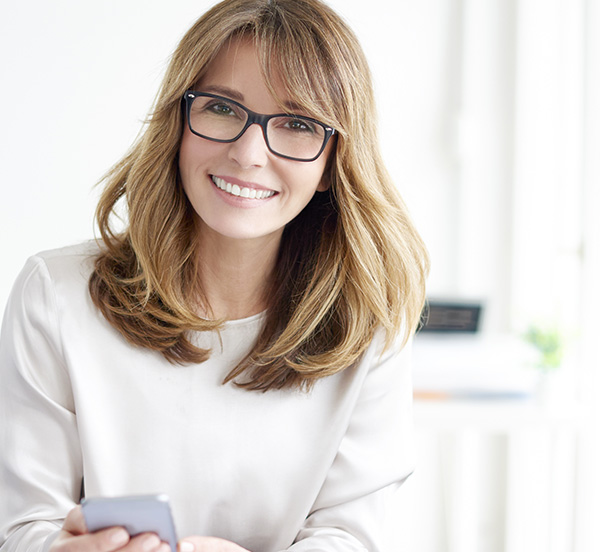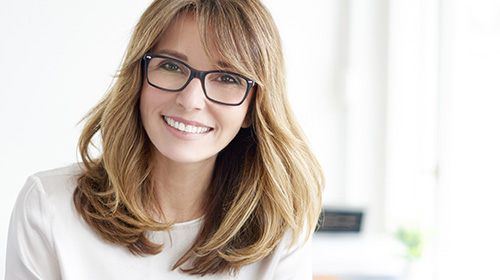 The LIFTACTIV range features:
A serum for eyes and lashes
Anti-wrinkle and firming eye care
A wrinkle-filler treatment with retinol
An accelerated renewal serum
Anti-aging care with sun protection SPF 15
Anti-aging day care (normal to combination skin)
Anti-aging day care (dry to very dry skin)
Anti-aging night care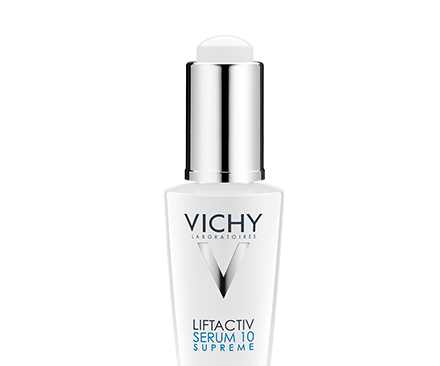 Its mission
Defy time! Whether your skin is sensitive or not, LiftActiv will be your daily ally in the battle against wrinkles and loss of firmness.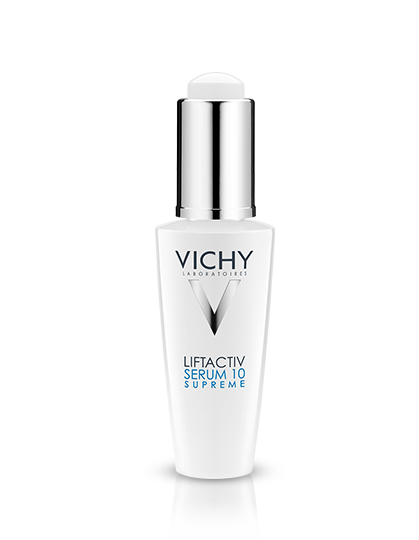 The star ingredients
In addition to containing Vichy's celebrated thermal water, the full range is enriched with rhamnose, a powerful ingredient from the silver birch tree that is renowned for its ability to strengthen the skin and fight signs of aging. Another star ingredient of LiftActiv products is fragmented hyaluronic acid (HA). Even smaller in size and weight than traditional HA, it delivers twice as much rhamnose into the skin for much faster anti-aging efficacy!
The results
In 10 days, 10 signs of aging are treated, diminished or corrected, including: wrinkles, fine lines, dulled complexion, sagging features, uneven complexion, loss of firmness, loss of tonicity, loss of volume, signs of fatigue and dehydration. Nothing less! What's more, it has been clinically proven that using the day cream will reduce the appearance of winkles by 33% in just one month.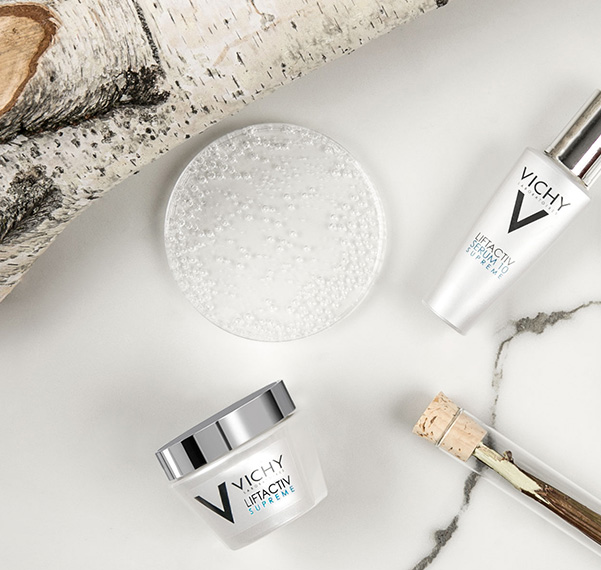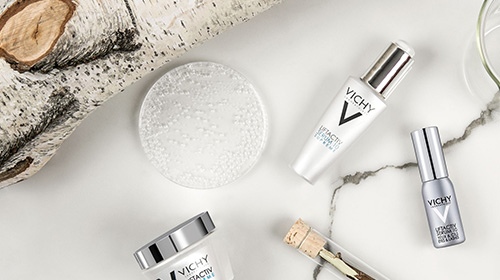 Your fifties represent the onset of menopause and its associated hormonal upheaval—not always easy! Slowly but surely, the skin matures, loses elasticity and becomes dryer and less luminous. Your skin requires special attention and a routine that includes specific care products.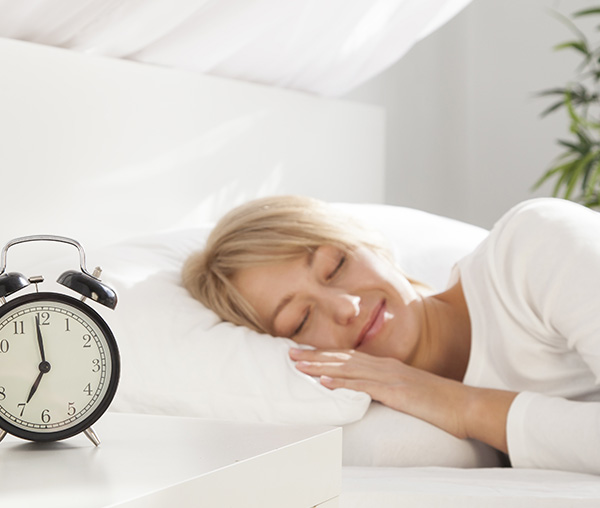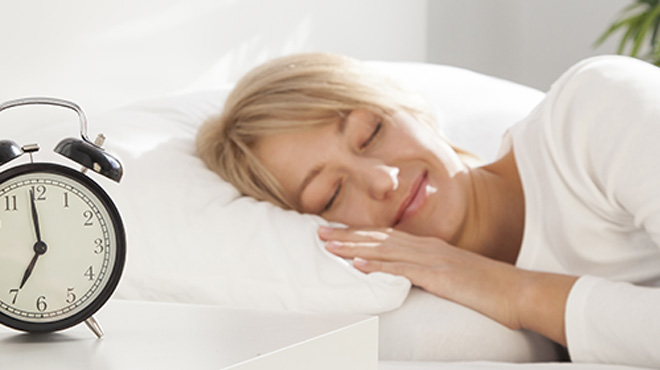 The NEOVADIOL range features:
Crease-smoothing and densifying care for eye and lip contours
A compensating complex serum
A compensating complex cream (dry skin)
A compensating complex cream (normal skin)
Replenishing night care
Magistral elixir oil (post-menopause)
Magistral lack of nutrition and comfort care (post-menopause)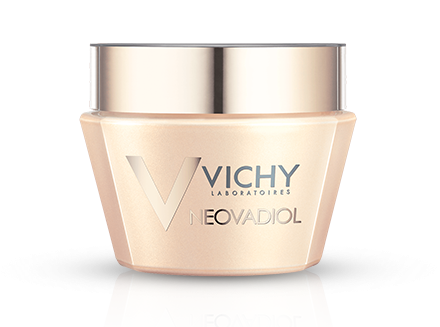 Its mission
Counterbalance the effects of menopause on your skin by acting on dryness, dullness and loss of tone.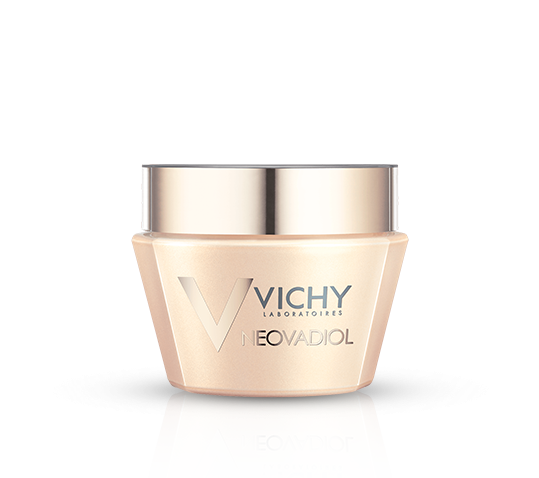 The star ingredients
To correct deficiencies and reconstruct the top layers of the skin, Vichy has loaded its Neovadiol range with ultra-powerful key ingredients. Among them you'll find Pro-Xylane, which helps the skin to recover its density and elasticity; hyaluronic acid, which hydrates and replumps the skin; and Vichy's mineralizing thermal water, which revives the complexion.
The results
Your facial contour, neck, cheeks, and all the other areas of the face will be toned and restored. Your skin quality will be greatly improved, appearing more dense and even. As for your complexion, it will seem fresher and brighter, from the very first use.