The warm season still has many more hot and humid days in store for us. Here are a few tips on how to stay beautiful and fresh from morning to night.
Moisturize lightly
In summer, choose products with a light, matte texture (gels, fluids, serums) and avoid rich creams. Allow your hydrating creams to fully penetrate your skin before applying makeup.
Melt-proof your makeup
First, apply a makeup primer. This will mattify the skin, allow foundation to be applied more evenly and help your makeup last longer!
Wear light, simple makeup. For example: eyeshadow, a line of pencil along your lashes, a coat of mascara and a long-lasting lip gloss will do the trick. Use waterproof products (especially for mascara!) so that nothing runs, despite the humidity.
Goodbye shine
Keep absorbent blotting paper in your purse. It will help you combat shiny zones and keep you from continually powdering yourself.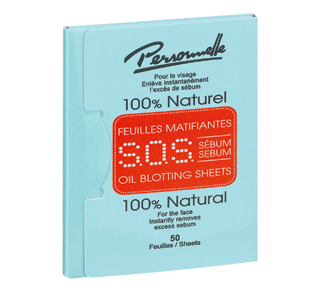 Personnelle Cosmetics
S.O.S. Sebum Oil Blotting Sheets, 50 units
Say goodbye to shiny skin! Personnelle Cosmetics 100% natural S.O.S. Sebum Oil Blotting Sheets instantly absorb excess oil on your face. They eliminate shine without ruining your makeup or leaving powdery residue. Keep them in your purse to have them when you need them!
Hello freshness
Use thermal water mist to refresh yourself. Here's a tip: spray some over your makeup to extend its wear!
Thoroughly remove makeup
Remove all traces of waterproof makeup by using products specially designed to do so. Their oil-based formulas work especially well to dissolve mascara, eye shadow and other products without excessive rubbing.