The skin around your eyes is the thinnest on your face and the most active (did you know that you blink approximately 10,000 times a day?), so signs of fatigue and aging develop quickly in that area. Here's a quick guide to help it fight back!
1. Use custom care products
Products designed especially for the contour of your eyes offer many benefits:
Their formula isn't as rich as that of your face cream, and is absorbed more easily: it keeps your eyes from swelling, and reduces risks of itching or tears.
They stimulate blood circulation in the tiny vessels and help drain lymph – which is essential to reduce bags and the appearance of dark circles.
To get the best effect, apply them immediately after cleaning your face.
2. Start with a serum
Formulated with moisturizing and revitalizing ingredients (hyaluronic acid, retinol, argireline, etc.), this highly concentrated cocktail will maximize the effectiveness of other products. Apply a small amount two times a day to start your routine. It will help…
Plump the skin around the eyes;
Regenerate it;
Counteract the fading caused by lack of sleep, aging or environmental stressors.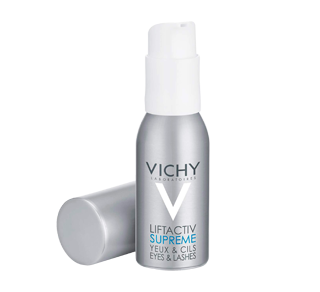 Vichy
LiftActiv Serum 10 Eyes and Lashes, 15 ml
Coming from the #1 serum in Canadian drugstores. For every woman, usually aged 30+, who wants to completely transform the look of her eyes, till the tip of her lashes.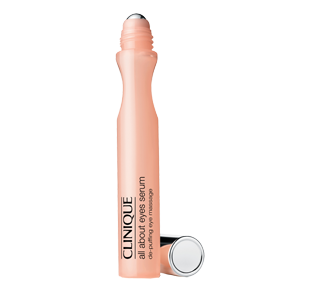 Clinique
All About Eyes Serum De-Puffing Eye Massage, 15 ml
Instantly cooling rollerball helps massage away bags, brightens, and refreshes on contact. Combats dark circles.
3. Use the right cream at the right time
Like the rest of your face, the contour of your eyes needs to be moisturized morning and night.
For daytime use, choose a nourishing formula that stands up to wear and tear.
Before bed, pick a complex that helps repair cells and limits water retention.
If your eyes are itchy, tear up easily or are affected by problems like eczema, use hypoallergenic formulas for sensitive skin.
To help the cream penetrate in your skin, gently tap it from the internal corner to the top of the cheekbone. Avoid going too close to the eye: you don't want to cause any irritation.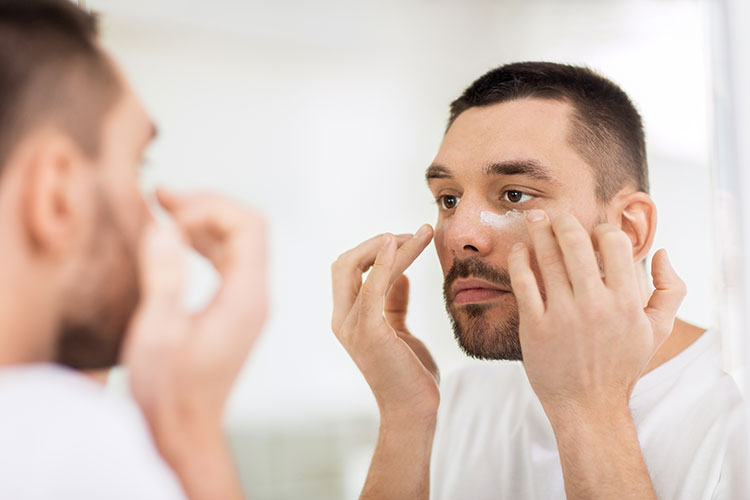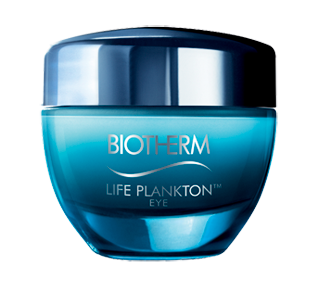 Biotherm
Life Plankton Eye Premature Eye Aging Prevention Cream, 15 ml
This high efficacy eye cream enables your eyes to look younger: eye contour looks denser, firmer and more resilient; wrinkles and fine lines appear diminished; puffiness, eye bags and dark circles under eyes look reduced. It helps prevent premature eye aging by sustaining skin regenerating capacities and fighting crows feet and wrinkles. Suitable for all ages and skin types.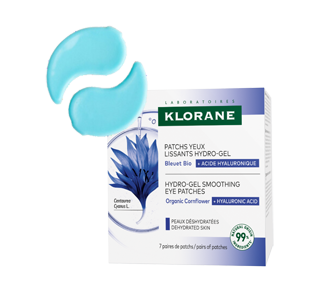 Klorane
Smoothing & Soothing Eye Patches with Organic Cornflower, 7 x 2 units
Smoothing and relaxing eye patches with organic cornflower and 100% plant-based hyaluronic acid is a refreshing anti-fatigue treatment for eye contour area after a long day or a short night. With 99% of natural ingredients and 100% biodegradable, the new patches with hydrogel technology hydrates, smooth away fine lines, promotes decongestion and reduces signs of fatigue (dark circles, puffiness, etc). Patches with a refreshing effect for a revived look!
Are your eyes swollen when you wake up? Keep your care products in the fridge: colder temperatures stimulate blood flow, so they help decongest the contours of your eyes quickly. That's why certain products come with cold, metal applicators.
4. Keep patches handy
Not getting enough sleep? Do you rub your eyes vigorously during cleansing? Call patches to the rescue! After applying your serum and cream, leave them under your eyes for about 20 minutes (their super fresh effect will make you want to keep them longer!). Their smoothing and soothing ingredients will combine with those of the other products to fade signs of fatigue, inflammation, dehydration and fine lines.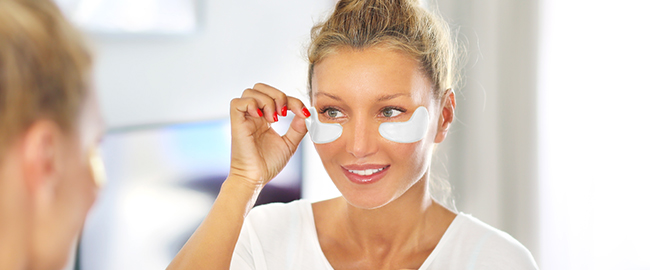 A few extra tips to pamper your eyes
Remove makeup gently with the proper product, one that covers your lashes. If your mascara resists, rubbing harder won't help! You're better off leaving a couple of makeup-remover towelettes on each eyelid for a few seconds.
For optimal irrigation throughout the night, slip a pillow under the end of your mattress to raise your legs a little. It will increase circulation towards your head.