Acne can affect people of all ages. Thankfully, there are a few ingredients that have been proven in the fight against imperfections and zits. Here's a quick overview.
WHAT IS ACNE, EXACTLY?
Acne occurs primarily when the skin produces too much sebum, a natural body oil that helps prevent drying and fight aggressions. When the excess sebum accumulates on the surface of the skin, it traps debris, dead skin cells and bacteria. As a result, the pores get blocked and inflammation occurs: conditions that are perfect for the appearance of pimples and comedones.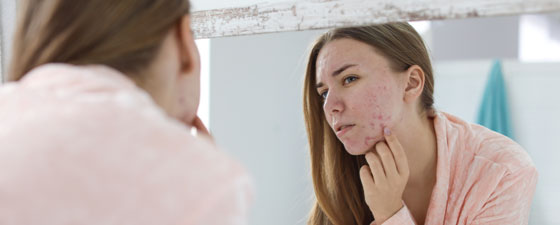 HOW ANTI-ACNE FORMULAS WORK
To help with prevention and treatment, anti-acne products have not one but three main jobs:
reduce the production of sebum;
slow the multiplication of bacteria and prevent the pores from becoming blocked;
unify the skin tone and reduce the appearance of imperfections.
These ingredients also have to do that gently so they don't dry out the skin, which will provoke more sebum production and feed the vicious cycle!
Caution! Because they're often abrasive, anti-acne ingredients can make your skin more sensitive, especially when exposed to the sun. Some of them can even discolour your skin. So be careful with your clothes, sheets and towels.
WHAT TO LOOK FOR ON LABELS
Benzoyl peroxide is an antibacterial and anti-inflammatory ingredient often found in creams and gels used to treat mild to moderate acne. It kills the bacteria that cause the problem and dries out pimples. Its concentrate vary according to the product and it's typically recommended for oily skins.
Nicotinic acid, niacin… Vitamin B3 has several names and it works in several ways. In addition to balancing the production of sebum, it helps in the renewal of our skin's natural lipids. As a result, cuts, scratches and wounds heal more quickly leaving fewer scars and blemishes. Vitamin B3 also has a very gentle anti-inflammatory effect that gradually reduces pimples and soothes skin irritated by acne.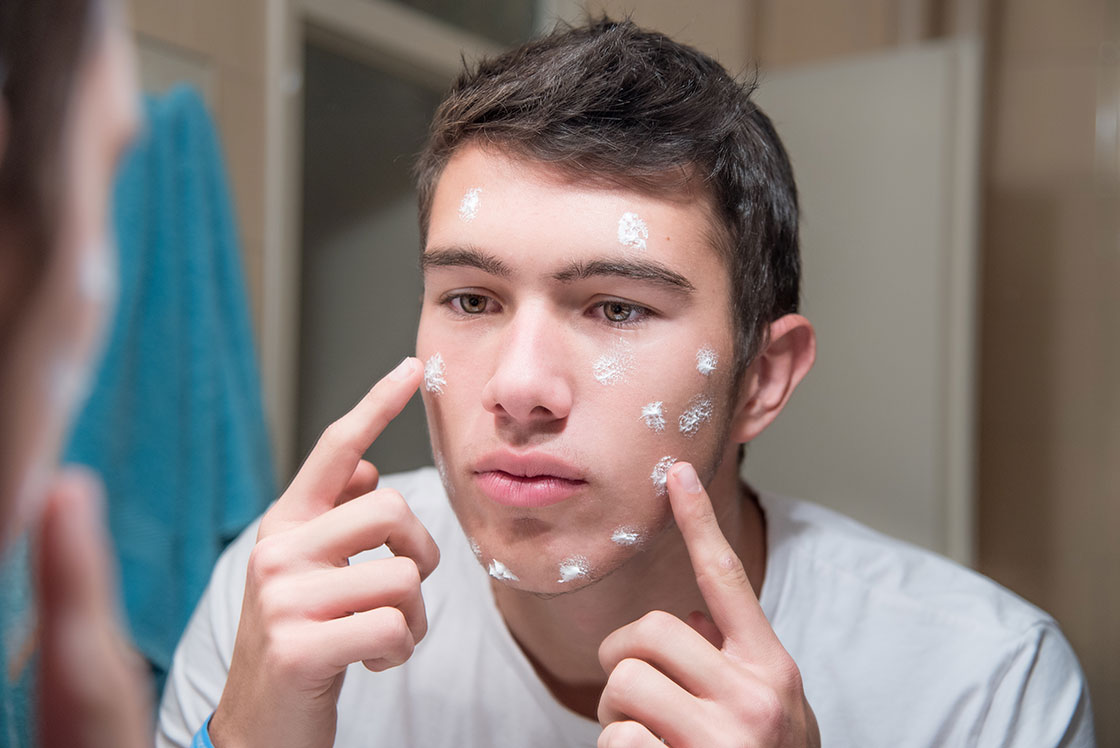 Purifying, exfoliating and astringent, salicylic acid is your anti-acne ally! This substance, synthesized in part from willow leaves, gives your skin a natural peeling and, by removing that ultra-thin layer of surface skin, it removes excess sebum, unblocks pores and eliminates microbes. It also helps treat lesions, so it minimizes the risks of scarring.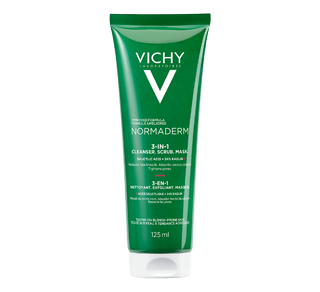 Vichy
Normaderm 3-in-1 Mask, 125 ml
For men and women of all ages with combination to oily skin who want to target recurring imperfections.
Extracted from fruit, alpha and lipo-hydroxy acids (AHA and LHA) also provide gentle peeling and their abrasive action smooths and purifies the skin while removing excess oils. They're particularly well suited for cases of light acne.