Micellar water has become an essential beauty ally. But what exactly is it used for? And how? Learn more about this all-in-one cleanser.
WHAT IS IT?
They say that micellar water is as effective as a cleanser, gentle as a cleansing milk, refreshing as a toner, and light as water. The key to all these virtues? Micelles: tiny translucent particles with cleansing properties that capture impurities, makeup residue and sebum. When they come into contact with the skin, they open, gobble up the dirt, close, then slide along the skin.
Formulated without soap and often without fragrances, micellar water allows you to cleanse and refresh the skin as well as remove makeup (face, lips, eyes and neck). It is also effective at removing waterproof makeup!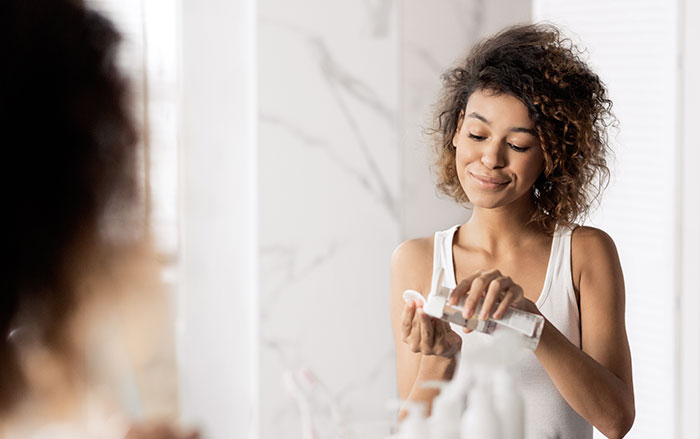 WHO SHOULD USE IT?
Renowned for its soothing and gentle qualities, micellar water is suitable for all skin types, and is especially good for sensitive skin that should avoid irritants like tap water.
WHICH ONE SHOULD I CHOOSE?
Although micellar water is suitable for all skin types, there are lots of different formulas that are better adapted to your skin's needs.
For oily or acne-prone skin, opt for a gel product, which dissolves makeup while eliminating impurities and excess sebum. But be sure to choose a gentle formula! One that is too abrasive can irritate the skin and cause it to produce more sebum to protect itself.
Is your skin more on the dry side? Try a milk cleanser, which nourishes as it cleanses.
For sensitive skin, water is the ideal choice: because it doesn't need to be rinsed, makeup removal requires less rubbing. Just avoid overusing cotton pads! To minimize abrasion, you can use wipes pre-soaked in micellar water, which will have a quicker and more direct effect.
HOW DO I USE IT?
It's pretty simple:
Soak a cotton ball with micellar water and make smoothing strokes on your face, moving outwards from the centre.
For the delicate eye area, let the soaked cotton sit for a few seconds to loosen up the mascara, then gently slide it from the inside of the eye outwards.
Repeat steps 1 and 2 until all the makeup has been removed from these areas. Above all, don't skimp on the amount of cotton you use. The skin is not completely clean until the cotton comes away spotless.
The advantage of micellar water? You don't need to rinse or use toner after removing your makeup. Once the skin is cleansed, simply dry it delicately by patting your face with a clean towel.
Note: if you're not wearing much makeup, cleansing with micellar water will be fairly quick. However, if you're wearing full makeup (foundation, corrector, powder, pencil, etc.) or makeup that's more intense, cleansing your skin will require more patience... and cotton balls.