Want a proven combo for the perfect evening look? Smokey eyes and neutral lips. Follow these steps and your makeup will be the star of the evening!
Step-by-step success
1. Use an aubergine liner to trace the contour of your eyes and along the edge of your upper and lower lashes. Once you've drawn it, blend it in lightly.

2. It's shadow time!
Apply a little iridescent gray to your entire eyelid, then spread it outwards with upward movements, so it doesn't weigh your eyes down with a heavy look.
Layer on a little deep purple and blend it in with the gray, just above the eye liner.
Create little points of light by adding a few touches of Champagne to the centre of your upper eyelid, then add a touch of light brown in the inner corner of your eyes.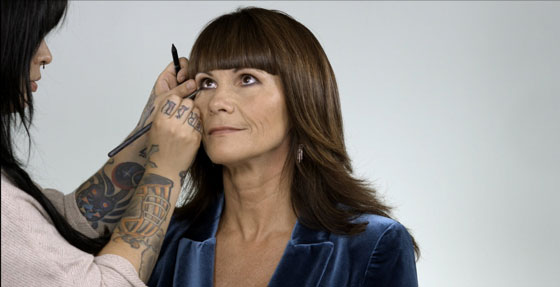 3. Intensify your look with a fine black line along the edge of your upper lashes and a generous layer of mascara. If you want, you can also colour the lower lashes with a light touch of your brush.
4. Finally, the lips! Cover them with a rosy beige lip liner, then layer over it with your lipstick.