Goodbye frizzy, lifeless hair! Here are some step-by-step professional tips and product suggestions to help care for, define and volumize your curls.
For healthy, shiny, curly hair, moisturize each week with a nourishing mask—this is a must and will also help prevent hair breakage.
To wash your hair and amplify your curls, use a silicone-free, weightless shampoo such as Volume Collagen by L'Oréal. This 2 in 1 shampoo strengthens and thickens hair, adds texture fibre by fibre and amplifies volume from root to tip. If your hair is dyed, opt for L'Oreal's EverPure sulfate-free volume shampoo instead—its extra-gentle formula won't strip away your colour.
Dry your hair with a towel and untangle it with a wide-tooth comb—avoid brushes, as they will flatten your curls.
Using your fingertips to help shape your curls, gently apply mousse or gel to towel dried hair. Opt for Garnier's Curl Construct Mousse or Curl Shaping Spray-Gel (on wet hair). Not only will these two products moisturize your hair, they will help keep your curls defined for up to 24 hours.
If your curls tend to frizz, regardless of the weather, apply a little anti-frizz serum while your hair is still damp. John Frieda's Frizz-Ease is ultra-strong and will discipline unruly hair and make it shiny and silky.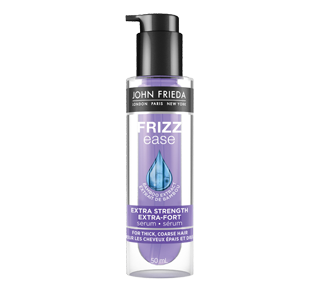 John Frieda
Frizz Ease Extra Strength 6 Effects + Serum, 50 ml
Award-winning formula instantly eliminates chronic frizz and repels humidity for glossy, silky-smooth styles.
Another good way
To get perfect curls is to use a curling iron. First, apply styling mousse to wet hair and then blow dry it or let it dry naturally. A wide ceramic curling iron is best for voluminous curls. There's also a new automatic self-propelled curling device that curls your hair in seconds. It's called the Conair Infiniti Pro Curl Secret and it's a gem for anyone who wants to transform their straight or wavy locks into trendy curls!