Heat, sun, humidity... summer's on its way and with it comes the need to change our skincare and make-up habits. Here are three tips to help you create the perfect summer beauty routine.
1) Choose lighter products
In winter, our skin has to be well equipped to withstand the cold, wind and dry air. That's why we use skincare products that are richer and more nourishing, offering greater protection. But in summer, all that changes. As the heat rises, our bodies produce more sebum and perspiration. So, it's important to use lighter, more refreshing, non-comedogenic formulas that provide our skin with the moisture it needs, but without clogging our pores.
Wash your face morning and night with a foam cleanser or a reusable cotton pad soaked in micellar water to help remove all the excess oil and accumulated impurities.
Moisturize using a gel or milk treatment that quenches your skin's thirst and offers a refreshing boost. If you can find products with UVA and UVB protection, even better!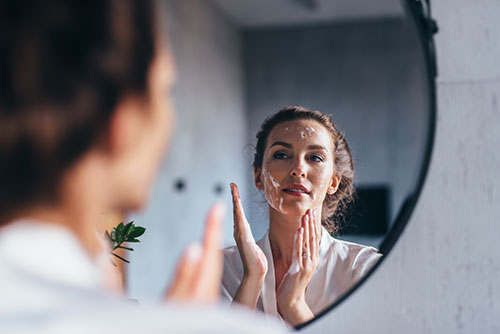 Tip
Want to know the secret to giving your skin greater UV protection and proper hydration? Easy. Just mix a dab of after-sun cream with your night cream! It can even help enhance your tan!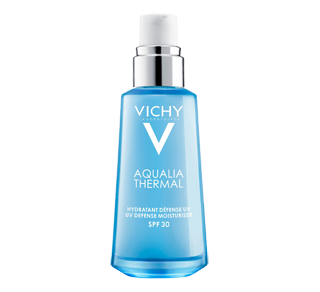 Vichy
Aqualia Thermal UV Face Moisturizer with SPF 30 with Hyaluronic Acid, 50 ml
Sensitive skin needs maximal hydration to fortify itself, and restore its barrier. Enriched with hyaluronic acid, Aqualia Thermal UV soothes and makes the skin more resistant to daily aggressions. Skin is intensely hydrated the skin for 24 h. Because sunlight can accelerate dehydration and skin aging, the filters within Aqualia Thermal UV protect the skin from sun damage. This broad-spectrum protection against UVA-UVB and has an SPF 30.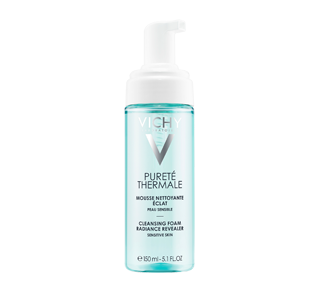 Vichy
Pureté Thermale Purifying Foaming Water Radiance Revealer, 150 ml
For women with sensitive skin who want to boost their radiance.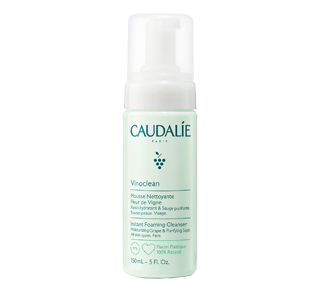 Caudalie
Vinoclean Instant Foaming Cleanser, 150 ml
This luscious and airy foam softly cleanses and purifies all skin types.
2) ALWAYS remember your sunscreen!
Make sunscreen part of your skincare routine every day of the year, but especially in summer when you spend more time outdoors, because UV rays are at their strongest during the summer months.
The steps to proper sun care
Apply sunscreen after your moisturizer every morning, making sure you cover all your exposed skin.
Reapply every two hours, or according to the directions on the packaging.
Choose a broad-spectrum sunscreen (one that protects against UVA and UVB rays) with an SPF of at least 30.
Use a product that's adapted to your skin type.
Remember
UV rays pass right through clouds and windows. So, sunscreen is vital even if it's cloudy out or you spend the day indoors.
3) Use the right makeup
In summer more than ever, your skin needs to breathe freely! That's why minimalist makeup is best, especially lighter products that are made for summer.
To enhance your tan's healthy glow, choose a light, moisturizing foundation rather than an ultra-covering one. You might also want to try a tinted, dry-touch sunscreen. It will help repel water and take the shine off your skin when things heat up!
When choosing your mascara and eyeliner, opt for long-lasting, waterproof formulas to avoid that raccoon look. Remember to check the label for ingredients that will keep your eyelashes soft and supple, while and preventing your eyelids from tightening up.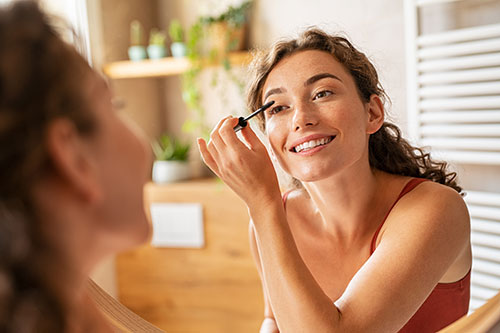 Remember
If you're not used to wearing waterproof makeup, remember to use a remover created specifically for waterproof products.