Glittery? Colourful? Combine both in a snap with this super-simple manicure, great for festive occasions. Let the Holidays shine!
Before your start…
Apply a thin layer of base coat to your nails. It's a must to help protect and strengthen them. It will also make your nail polish more vibrant. Make sure this coat is completely dry before opening your bottles of coloured polish!
Apply a thin layer of white glitter to your thumbnails.
Cover your index and ring-finger nails with a lightly iridescent emerald green.
Apply a blue-gray glitter to your middle and pinkie nails.
Repeat these steps once all polishes are dry.
Cover all your nails with an activating top-coat to protect your colour and make the shine last.
It's time to celebrate!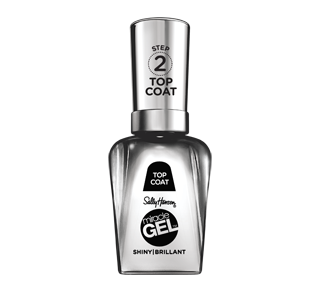 Sally Hansen
Miracle Gel Shiny Top Coat, 14.7 ml, 101
Our ultimate chip-resistant nail polish, Miracle Gel, is patented technology for longer wear. No UV lamp required.