Enchanting and mysterious, green eyes are rare. Learn how to make them pop.
To show off your eye colour, rule number one is to choose shades that complement your iris. In the chromatic circle, red is opposite green—but that doesn't mean you should apply red eyeshadow! It just means you should pick eyeshadow shades with red undertones.
If you like cool shades
Lilac is THE shade to have—it'll make bringing out the green in your irises far easier! Otherwise, opt for mauve, plum, purple, pale pink and violet shades.
We like:
Colour Riche Luminous Ombrés – Unforgettable Lilac, by L'Oréal. A four-colour pre-harmonized palette that can be used dry or wet.
If you like warm shades
Opt for brown shades with red undertones, like chestnut, taupe and apricot. The important thing is that it be a warm shade of brown.
We like:
Color Design – Gris Fatale, by Lancôme. An all-in-one 5-shadow palette for smooth, luminous eyes!
For an evening look
Opt for darker shades. If you prefer a bolder look, opt for metallic, golden or copper shades to make your eyes sparkle.
We like:
Quatuor Eyeshadow Quartet in "Les Cuivrés", by Lise Watier. Four shades that will make your eyes sparkle...
For a smoky eye look
For a glamorous look that really brings out the colour in your eyes, opt for black—it'll make your eyes look sophisticated and mesmerizing.
We like:
The Nudes Palette by Maybelline. A 12-shade collection of eyeshadows, from light to dark, that blend easily and offer 12-hour hold.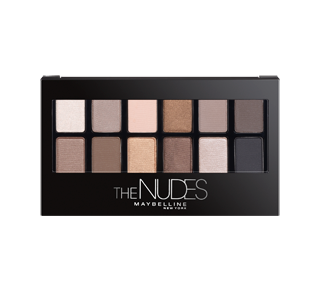 Maybelline New York
Expert Wear Eyeshadow Palette, 9.6 g, The Nudes
Create looks From day to night. Deep to light.
For a natural look
Apply an off-white eyeshadow shade to your entire eyelid, then add a soft pink shade.