Longueuil, December 3, 2014 – The Jean Coutu Group (PJC) Inc. ("the Jean Coutu Group") is proud to count on affiliated pharmacist-owners whose commitment in the community is recognized by l'Association québécoise des pharmaciens propriétaires (AQPP). For a second consecutive year, the prestigious Hygie prize that rewards the exceptional work of a pharmacist in addition to his involvement in the community was awarded to a pharmacist of the Jean Coutu network by l'AQPP in collaboration with Pfizer.
"We are proud to count on pharmacists involved in their community. Their commitment and their devotion are priceless for those charitable organizations that they support. They are examples for us all", highlighted François J. Coutu, President and Chief Executive Officer of the Jean Coutu Group.
In 2013, Ms. Brigitte Marchand, pharmacist owner of the Jean Coutu pharmacy located in Lachenaie, was rewarded for her commitment with organizations such as the Cercle du doyen of the Faculty of pharmacy at Université de Montréal, the Carrefour pour Elle Foundation, the CSSS du Sud de Lanaudière Foundation, le Baluchon Alzheimer, the Orchestre symphonique de Longueuil and les Œuvres de Galilée. This year, the spotlight was on Mr. Daniel Benoit, pharmacist owner of three Jean Coutu stores in Drummondville, who was honored for his achievements with the Sainte-Croix/Hériot Foundation, the Club Kiwanis of Drummondville, the Societé Alzheimer of the Centre-du-Québec, la Maison Myosotis and the Normand-Léveillé Centre.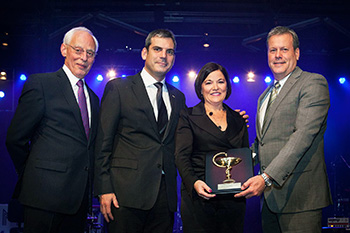 From left to right: Normand Cadieux, AQPP - Jean Thiffault, AQPP - Brigitte Marchand - Sylvain Champagne, Pfizer Canada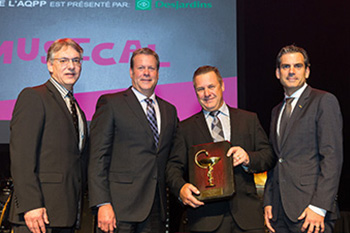 From left to right: Jean Bourcier, AQPP - Sylvain Champagne, Pfizer Canada - Daniel Benoit - Jean Thiffault, AQPP
About The Jean Coutu Group
The Jean Coutu Group is one of the most trusted names in Canadian pharmacy retailing. The Corporation operates a network of 416 franchised stores located in the provinces of Québec, New Brunswick and Ontario under the banners of PJC Jean Coutu, PJC Clinique, PJC Santé and PJC Santé Beauté, which employs close to 20,000 people. Furthermore, the Jean Coutu Group owns Pro Doc Ltd ("Pro Doc"), a Québec-based subsidiary and manufacturer of generic drugs.
-30-
Source:
The Jean Coutu Group (PJC) inc.
Information:
Hélène Bisson
Vice-President, Communications
The Jean Coutu Group (PJC) Inc.
(450) 646-9611, Extension 1165
[email protected]