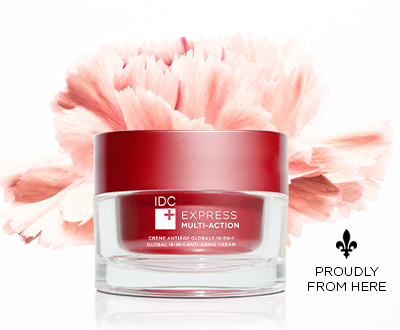 Leader in premium anti-aging care created and made locally
Inspired by skin balance, IDC DERMO treatments aim to act both on the apparent signs of skin imbalance and prevent their appearance. For radiant, healthy and younger looking skin.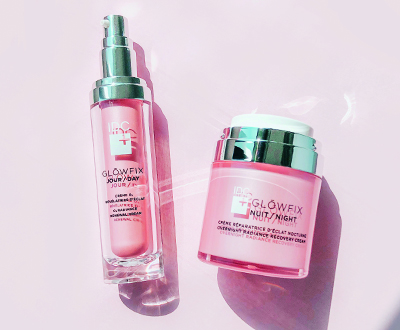 1, 2, 3 GLOW !
Discover our new GLŌWFIX range! Created to revive your skin's natural glow!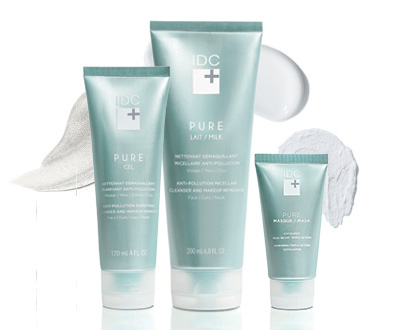 ALL IN ONE CLEANSERS AND EXFOLIANTS
The Pure care range frees the skin of impurities, boosting cutaneous renewal and preserving your youthful appearance through the use of cutting edge anti-ageing ingredients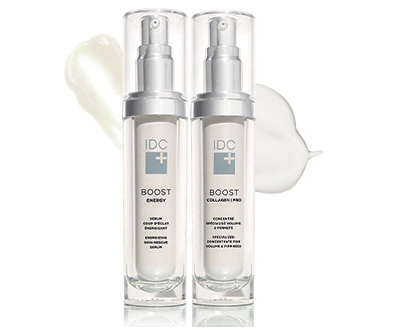 SPECIALIZED CONCENTRATES
Boost concentrates provide an extra benefit to your daily skin care routine, offering a made to measure solution for specific skin care problems.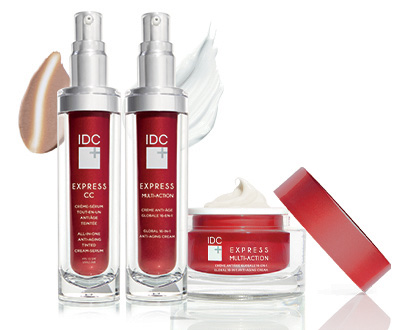 ALL-IN-ONE ANTI-AGE CARE
Intelligent, multi-functional formulas that are perfectly adapted to the reality of modern women who want a product that effectively replaces the routine use of three products.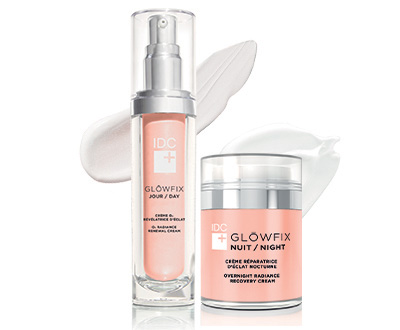 RADIANCE-RELEASING ANTI-AGING CARE
Want to wear nothing but your skin? Challenge your skin by going bare! This range is designed to reveal the skin's natural glow by providing it with all the oxygenation it needs! Make-up is optional!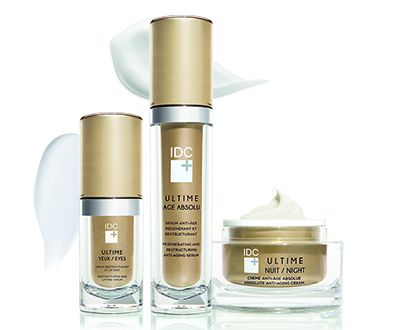 ABSOLUTE REPAIR ANTI-AGING CARE
Veritable elixirs made from the purest ingredients that have been specifically selected for the effectiveness, these super-complete formulas offer specialized restorative care and are designed for the needs of mature and dysfunctional skin.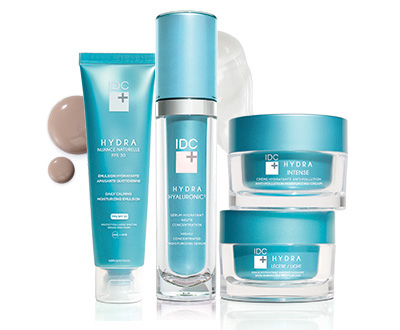 LONG-LASTING INTEGRAL MOISTURIZATION CARE
HYDRA products offer complete, long-lasting hydration that targets the three dimensions of hydration: the supply, diffusion and retention of water molecules.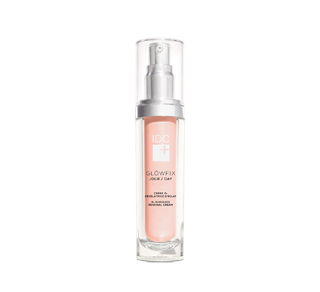 IDC Dermo
Glowfix Day Renewal Cream, 30 ml
This supercharged formula, instantly enhances the re?ective properties of skin to give it a new, illuminated appearance while diminishing all visible signs of skin aging: wrinkles, loss of ?rmness and tone. The iridescent pigments and oxygenating agents instantly minimize the appearance of dermal imperfections: pores appear tightened, the skin seems smoother, and the complexion is instantly brightened.
IDC Dermo
Glowfix Overnight Radiance Recovery Cream, 50 ml
A powerful perfecting formula that does double duty as an overnight hydrator and brightening concentrate. Cocooning your skin with its whipped texture, this cream reveals visibly brighter, more even-toned and rested looking skin by the morning. Infused with pro-oxygen agents, encapsulated acids, nutri-lipids to optimize your skin's oxygen supply and overnight radiance regeneration. REGEN(16) is our most advanced anti-aging technology, and when combined with illuminating pigments, it revives and perfects the appearance of the skin for an overnight complexion transformation.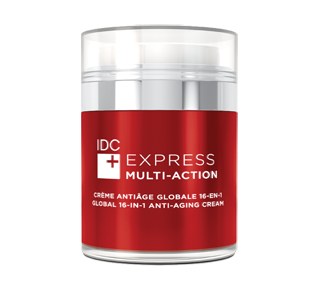 IDC Dermo
Express Multi-Action Global 16-in-1 Anti-Aging Cream, 50 ml
Stop time by moisturizing and nourishing your skin with this multi-action all-in-one anti-aging cream that simultaneously targets all 16 factors of skin aging on the face, eye contour and neck in one single step, day and night. Perfect for busy, active women, or simply to preserve the youthful appearance of your skin, this all-in-one multitasker cream replaces the use of three products and combines simplicity and effectiveness while protecting the skin from external irritation with the help of our powerful ultra-efficient anti-pollution shield.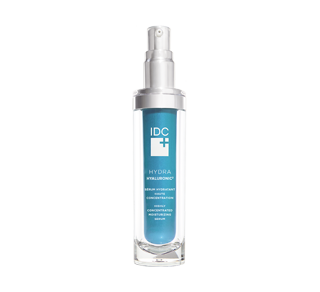 IDC Dermo
Hydra Hyaluronic2 Highly Concentrated Moisturizing Serum, 30 ml
This cutting-edge hydrating serum offers a concentration of hyaluronic acids and Swiss glacier water whose efficacy has been clinically tested to provide a plumping effect after the very first application. It improves the skin's water balance, optimizes and reconfigures its hydration reserves and fights against the harmful effects of pollution and free radicals, especially those generated by exposure to blue light. Encasing Swiss glacier water in liposomes allows it to more effectively penetrate the skin, resulting in deep, lasting hydration. We take the skin's physiology into account when selecting all our ingredients to ensure optimal compatibility.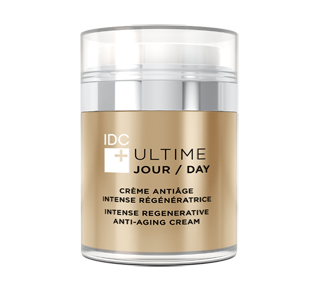 IDC Dermo
Ultime Day Intense Regenerative Anti-Aging Cream, 50 ml
A true cosmetic intervention, like all the products in the Ultime range, this intense anti-ageing and regenerating cream offers a cutting edge anti-ageing solution for dry to very dry skin types. This luxurious anti-ageing day cream for the face and neck has a rich melting texture that provides one of a kind, intense nourishment and a protective second skin effect for exceptional comfort. This voluptuous care fights even the most pronounced signs of ageing while firming, lifting and visibly defining the jawline. Wrinkles and fine lines look smoother and features appear more relaxed. Made with IDC DERMO's unique Regenerating Complex that features low-molecular weight hyaluronic acid for deep hydration of skin and vitamin B3 which fights dehydration and skin dryness. This exceptional product regenerates skin hydration levels and provides a cocooning effect on the surface of the skin for a smooth, toned, plump, more revitalized and younger looking appearance. For more radiant, brighter and smoother skin tone—every day. The ultra-complete and highly concentrated Ultime Jour formula combines our Nutrient-rich Complex with the demonstrated efficiency of REGEN(16) and an exclusive IDC patented technology to simultaneously address all 16 signs of skin ageing. This judicious combination of molecules, backed by supporting clinical studies, acts in synergy for visible results. REGEN(16) technology visibly reduces the effects of time and re-educates the skin to regain its youthful appearance.
Shop on our online store!
Did you know that we offer a great selection of IDC products in our online store? Check it out and let yourself be tempted!