My lashes are falling out, what do I do?

Are you panicking because your lashes are falling out? Don't worry. Here are three answers to questions that can help you understand eyelash loss.

Why are my lashes falling out?
To understand the reasons that cause eyelash loss, you need to know why these small hairs exist in the first place. And no, their primary function is not to give you a seductive look! In fact, their job is to protect your eye from external aggressors, such as sweat, dust and rain. And just like the hair on top of your head, your eyelashes are constantly falling out and growing back. An eyelash's lifespan is about three to five months.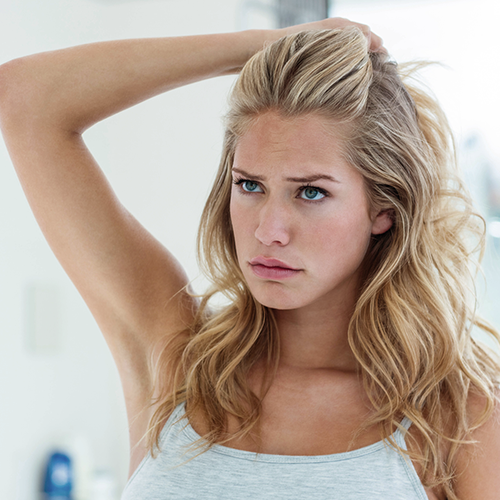 How should you care
for your eyelashes?
Try to reduce your levels of stress, - as much as possible, whether by meditating, exercising or by taking part in an activity that will brighten your mood and relax you.
Avoid touching, rubbing and pulling (yep, some people do this unconsciously!) your lashes with your fingers. Unsurprisingly, the more you rub your eyes, the weaker your lashes. This in turn will cause them to fall out quicker.
If you think you are allergic to a cosmetic product, stop using it immediately and avoid applying makeup on your lashes for a few days, until they recover.
Avoid wearing waterproof mascara every day. - This is a product that's harder to remove and requires a more intense makeup removing process, which can weaken your lashes in the long run. To give your eyelashes a break, alternate between regular and water-resistant mascara.
Gently remove your makeup every night. To do so, soak a cotton swab with your makeup remover and apply on your eyes. Leave it on for about 10 seconds. Gently press the swab on your eyes and delicately glide it towards the outer corner of your eye. Be careful, you should never rub your eyes to remove your mascara. NEVER!
Make sure to consume plenty of vitamin A, B, E and omega-3 because they will help your hair and lashes stay healthy.
Just like your skin and hair, you need to hydrate your lashes if you want them to grow back stronger. There are many products designed for this purpose.

Is it possible to make my lashes stronger and make them grow back faster?
We all want thicker, longer lashes, even without makeup. Thankfully, there are several products that act just like a hair treatment product to amplify the volume of lashes and promote their growth. How? By providing the nutrients necessary to stimulate the hair's fibre, increase its resistance and repair the damage caused by bad lifestyle habits. Your lashes will be revitalized, they'll grow back quicker and last longer.